Berlin bans Uber app citing passenger safety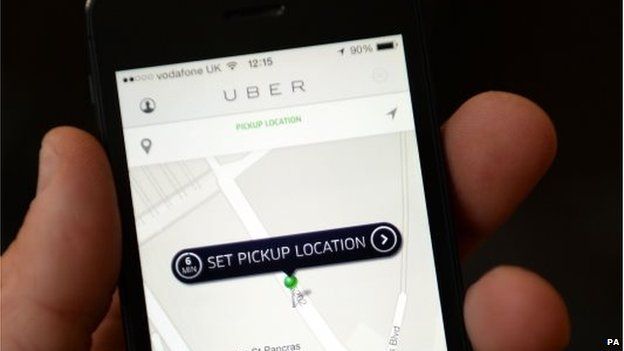 The mobile taxi app Uber has been banned in Berlin by the city's State Department of Civil and Regulatory Affairs.
In a statement, the authority said it had banned the app on passenger safety grounds and threatened the firm with a 25,000 euro (£20,000) fine for ignoring the order.
Uber said it would challenge the ban.
It is the latest setback for Uber, which has faced bans and protests in cities across Europe.
The Berlin authority said passengers may not be covered by insurance because they aren't traditional cabs.
Uber set up in Berlin in February last year.
Fabien Nestmann, general manager at Uber in Germany, said the company would challenge the ban.
"The decision from the Berlin authorities is not progressive and it's seeking to limit consumer choice for all the wrong reasons," he said. "As a new entrant we're bringing much-needed competition to a market that hasn't changed in years."
In June, a protest by thousands of drivers of black cabs in London brought part of the city to a halt. London cabbies say Uber drivers don't have to follow the same strict rules.
Uber lets smartphone users hail cabs through its software. The company takes a cut of the fare.
Earlier this month, senior Labour MP Margaret Hodge said the app was "competing unfairly" with London's black cabs.
She has written to Boris Johnson asking why Transport for London allows cars to take bookings through the app without a licence to operate in the capital.
Mrs Hodge claims the firm is "opting out of the UK tax regime" but Uber said it complied with "all applicable tax laws".