Asda reports increase in sales and market share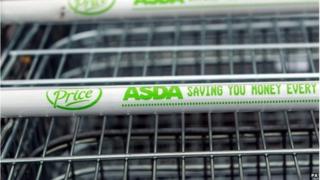 Asda said sales for the 10 weeks to June increased and the supermarket also improved its market share.
Asda's owner, Wal-Mart, cut its forecast for profits for 2014 as it invests in its online business and said it is paying more for employee healthcare.
Wal-Mart said yearly healthcare costs could rise from $330m (£198m) to $500m.
Sales at Asda shops open at least a year rose 0.5%, and the business edged up its share of shoppers' spend 0.14%.
Asda's rivals have lost customers to discounters like Lidl and Aldi.
Despite Asda's improved performance, Wal-Mart said trading conditions in the UK continue to be "challenging".
Discounters Aldi and Lidl are booming at the expense of Tesco and Morrisons, research firm Kantar Worldpanel found last month.
Slow Wal-Mart
Of the big four supermarkets, Sainsbury's and Asda managed to keep their share of the market.
Wal-Mart, the world's largest retailer, said sales in the US were about the same for the second quarter, marking the sixth consecutive quarter of no growth.
Chief executive Doug McMillon said competition and low consumer spending had held back sales growth.
Wal-Mart cut its forecast for earnings for the year to the end of January to between $4.90 (£2.94) and $5.15 per share from $5.10-$5.45.
Last month, Asda announced a shake-up of its management structure, which is likely to result in 1,360 redundancies.
The supermarket chain first outlined the proposals in May, and had initially forecast that up to 2,600 people would lose their jobs.
Redundancy
After a 45-day consultation with staff, Asda confirmed that although it is creating 5,670 new roles the majority will be on a lower pay grade.
The move affects 4,100 managers.
The retailer, which has 578 stores across the country, said 1,360 people are expected to take redundancy, as staff choose to leave or do not meet the overall selection criteria for the new roles.