Dollar shop stores in three-way takeover fight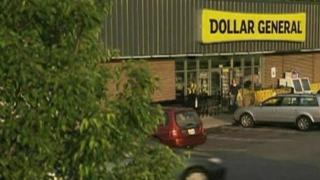 A takeover battle involving US dollar stores, discount retailers, is now a three-way fight.
Dollar General has entered the bidding for Family Dollar with an offer worth about $9.7bn (£5.8bn) including debt.
The bid trumps an $8.5bn offer for Family Dollar made last month by Dollar Tree.
Dollar stores expanded fast during the US economic downturn, but have faced competition from some of the bigger chains, including Wal-Mart.
Dollar General said in a statement that a merger with Family Dollar would create a group with 20,000 stores in 46 states, with sales of more than $28bn.
"For Family Dollar shareholders, our proposal is financially superior to the current transaction agreement with Dollar Tree and would provide Family Dollar shareholders with a substantial premium," Dollar General chairman and chief Executive Rick Dreiling said.
Share price action
Most Family Dollar stores are in low-income districts. Its presence is biggest in Texas and the eastern US. However, the company has been closing stores and struggling financially.
Billionaire activist investor Carl Icahn, who disclosed a stake in Family Dollar in June, had pushed the company to sell itself to Dollar General.
News of Dollar General's counter-bid had investors rushing into the market.
Soon after Wall Street opened, Family Dollar shares were 4.7% ahead, while Dollar General jumped 9.3%. Dollar Tree fell 2.5%.