Shopkeepers in Rome reveal daily struggle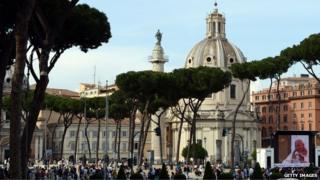 Italy has slumped into recession once again, and in the alleyways of Rome's historic heart, shopkeepers and traders struggle with the daily reality of their nation's endless economic crisis.
When you talk to the craftsmen and owners of small firms you quickly get a sense of just how tough the business climate is.
I found Danilo Collati in the dark recesses of his bicycle shop.
Surrounded by the handlebars, saddles and spokes of his machines he describes the difficulty of making a living.
"It's very hard," he says. "Very complicated. Everything's stalled. Italy's in a moment of stagnation."
No credit, more competition
He says cash just isn't circulating as it should.
"We are trying to keep going - the artisans, the small businesses - but it's difficult. Look at the increases there have been in petrol, tax - everything.
"We shopkeepers have tried to keep our prices low by cutting our profits.
"Basically our economic system doesn't work. There's no credit available for small or medium-sized enterprises."
Mr Collati says that on top of everything else he is having to cope, like many stores, with increased competition from outlets that are trading on the internet.
And while tourists hiring bikes are the backbone of his business, he feels that Italy was failing to capitalise properly on its capacity to attract visitors.
"We are very behind in this area," he says.
'Alarming' situation
In a nearby alleyway, a picture frame-maker called Sandro Prosperi says he has seen too many craftspeople like him go to the wall as their workshops are turned into bars and pizzerias.
And he believes that as it loses these types of businesses, Italy's strength is ebbing away.
Just across the street, from behind the counter of his hardware store, Leonardo Ruberto is equally gloomy.
"The situation in this neighbourhood is alarming," he says. "There is no work. Costs are too high. And taxes are higher than ever."
Mr Ruberto blames the government. He says it has focused too much of its energy on trying to reform Italy's dysfunctional political system.
"They have spent three months discussing the electoral law instead of working on the economy and doing something for us. Not just business owners, but also employees."
Measures 'need time'
But the government would argue that its political and constitutional reforms are a crucial element in its effort to bring about far-reaching change.
Matteo Renzi, the ambitious young prime minister who has only been in office for six months, wants to make Italy easier to govern, less bureaucratic and a freer, simpler place to do business.
The idea is that profound, structural reform would make it possible to cure the nation's economic malaise.
One of Mr Renzi's closest aides, the cabinet undersecretary Graziano Delrio, recently said: "One by one we are tackling the causes of Italy's lack of competitiveness: the inefficiencies of the civil service, the long delays in the justice system and the oppressive tax regime.
"But many of our measures require time before they bear fruit."
Meanwhile Mr Renzi points out that his country is not alone with its problems; the whole eurozone is now stagnating.
He says he will drive his reforms through with "conviction and determination".
And in those alleyways in Rome's historic centre there are some small signs of hope.
Courage required
While many bright young Italians are leaving the country in despair, Antonella Abbrancati, who has just opened a clothes shop, is betting on being able to make a go of it here.
She is a designer who makes the stylish garments she sells out of recycled fabrics.
Ms Abbrancati says it took guts to launch her venture in such bleak economic times. "A lot of courage. I repeat, a lot!" she says, laughing.
"In other parts of Europe and beyond Europe it's much easier. Here it's more difficult. But if you have a passion you need to take a chance."
Nearby, in yet another alley, there is evidence that the world continues to appreciate - and to be willing to pay for - Italian craftsmanship and design of the highest quality.
Dario Alfonsi works with fine leather as he makes chairs, and he takes orders from around the world.
He points to one of his creations and says it is for an ambassador to the Vatican.
He pulls out a crocodile skin that a client has brought in from somewhere in central Africa. Soon the thick, black strips will be worked around the frame of a rather different sort of chair.
With his international connections Mr Alfonsi seems to manage to float above Italy's economic crisis.
But he is disheartened by the state of the nation around him. Like so many Italians he places the blame squarely on the failings of the ruling class, and he has turned his back on it.
"I haven't voted now for many years," he says.