Tunisia's first video games boss's global ambition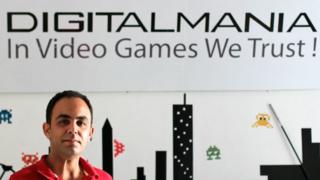 For someone who started playing computer games as a three-year old, and launched his first business when he was 12, Walid Sultan Midani was perhaps destined to set up Tunisia's first video games development company.
Now 31, Mr Midani is the founder and chief executive of Digitalmania, based in the capital Tunis.
The business is still just officially three years old, but it has already developed 34 video games, 30 for third parties, and four released under its own name.
Its latest game - Defendoor - is available to play on Facebook - and Mr Midani, a Microsoft start-up boss of the year award winner, ultimately hopes to create a hit to rival the likes of Angry Bird, Farmville or Candy Crush.
The growing success of Digitalmania has come despite a number of challenges, most notably the Arab Spring, which started in Tunisia in 2011 and saw Tunisia's then long-standing President Zine El Abidine Ben Ali stand down following mass street protests.
Other issues that the company has had to deal with is a lack of finance, and strict limits on the convertibility of Tunisia's currency, the dinar.
Selling jeans
Although playing computer games featured highly in Mr Midani's childhood, he was not always stuck behind a console.
Instead, aged 12, he decided to start a little business to increase his pocket money.
"I didn't want to ask my parents for more money, so I decided to buy and sell jeans," he says.
And so he would buy jeans in bulk cheaply from local souks (markets), and resell them to his friends.
Other similar ventures followed as Mr Midani went on to university in Tunis, where he did a degree in information technology.
"I picked up my business skills through learning-by-doing," he says.
"[At university] I was studying in the morning and working at night. And while the other guys were buying comics, I was buying and reading books about business models and management."
Financial hardship
After leaving university in 2009, Mr Midani decided it was time to set up Tunisia's first video gaming studio.
However, as it was the first business in that field in Tunisia, persuading a local bank to lend to it was an uphill struggle.
Meanwhile, attempts to crowd fund the venture failed because the Central Bank of Tunisia's continuing limits on how many dinars can be converted to and from foreign currencies mean that Tunisian bank and credit card face restrictions when trying to use international websites.
So Mr Midani was unable to use crowdfunding websites such as Indiegogo.
Instead he had to initially rely on financial support from his family, and money was so tight that in the first year Mr Midani paid himself and his two colleagues a salary of just five dinars ($2.90; £1.70) each per day - enough for a sandwich and soft drink for lunch.
"Now I can sleep, but there were very difficult months [at the beginning]," he says.
"My colleagues would make plans to buy things or go on holiday, and I had to tell them that they wouldn't get paid that month.
"Being responsible for other people's lives is hard, but it made me work even harder, and I was transparent with them about problems."
Despite the tight finances, after six months Mr Midani and his team had developed their first gaming character.
And after 18 months Mr Midani finally received the first tranche of a business loan from the state-run BFPME bank.
The funding meant that Mr Midani was able to officially launch Digitalmania in 2011.
Global ambition
Digitalmania is now breaking even, and 99% of its revenue is generated abroad - mainly in Germany, the UK, France and Italy.
And to circumvent the currency issue, Mr Midani pays a company in France to collect Digitalmania's overseas earnings.
"Our business model is very much focussed on building our own products," says Mr Midani.
"But we need cash-flow, and working for other companies helps us fund our own games."
"I want to build something with a global reach. I am not aiming at the Tunisian market."
Yet despite Mr Midani's global focus, he makes time to encourage and support young Tunisian entrepreneurs, regularly speaking at start-up support events.
Mr Midani says he wants to help because he is convinced that sustainable growth and jobs in Tunisia can only be created by an expansion of the private sector.
"We need to stop depending on the public sector or the government," he says. "[And] I love networking and sharing ideas.
"In the past people would keep everything for themselves in Tunisia, but we can all benefit from each other's successes and a better eco-system.
"It's very simple, the more entrepreneurs there are, the more income and jobs we can generate. And if the gaming sector was to expand beyond Digitalmania we could hire an armada of highly skilled graduates."
Staffing issues
These days Digitalmania employs 13 people, including six women, and Mr Midani is now looking to expand and hire.
"Everybody is young, the average age is 24, we are like a big group of friends, we laugh a lot every day " says Mr Midani.
But nevertheless he insists that working in video-gaming is still hard work and a serious business.
On average Digitalmania has been recruiting 14 employees a year, but the turnover is high.
"People have high expectations when they start here," he says.
"There is no training or traditional way of recruitment in the gaming industry, especially not in Tunisia. So at Digitalmania everyone starts by building Tetris [a popular computer game first released in the 1980s].
"They realise very quickly that it's not that easy. If we can keep one or two that's great. People are made for the job or not."
Mr Midani is also working on opening an office abroad.
The move outside Tunisia is necessary in order to integrate the company into the international developer systems of Google, Facebook and Apple.
Mr Midani says: "I don't just want to survive, I want us to come up with the next Angry Bird of Farmville."
"We can stay at this level or we can try and drive the industry. Who knows, hopefully we will do an IPO [share sale] in five or six years."