BHP Billiton to create new metals and mining company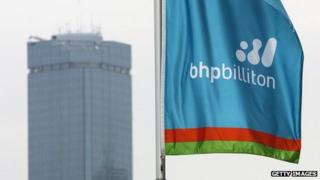 BHP Billiton plans to spin-off some of its assets into a new $14bn (£8.4bn) metals and mining company in order to simplify its operations.
The world's biggest mining firm also posted a rise in annual profits of 23% to $14bn, missing analysts' forecasts.
BHP chief financial officer Graham Kerr will head the new company, which will contain the aluminium, coal, manganese, nickel and silver operations.
The new entity, called NewCo for now, will list on Australia's stock market.
It will also have a secondary listing in South Africa. However, the proposal still needs to go through a shareholder vote and be approved by regulators.
BHP's London-listed shares fell nearly 4% following the announcements.
BHP said the demerger will allow it to focus on core businesses in iron ore, copper, coal, petroleum and potash production.
"By concentrating on what we do best, the development and operation of major basins, we can improve our productivity further, faster and with greater certainty," BHP chief executive Andrew Mackenzie said in a statement.
'Critical'
Analysts said they had been expecting the spin-off, which is expected to be completed in the first half of 2015.
"Cash from an asset sale is no longer critical to the group," David Lennox, a resource analyst from Fat Prophets in Sydney said.
"Removing underperforming businesses has become critical in the battle to generate shareholder returns and allocate capital."
BHP ranks among the world's largest producers of major commodities which include aluminium, coal, copper as well as silver and uranium. The company also holds substantial interests in oil and gas.
Last week, the company said in a statement that it is looking into ways to further simplify its corporate structure, to "retain the benefits of diversification, generate stronger growth in cash flow and a superior return on investment".
BHP's global headquarters is located in Melbourne, Australia. The company's shares are listed on two stock exchanges - in London and Australia.
The company also has a secondary listing on the Johannesburg stock exchange and two American Depositary Receipt listings on the New York Stock Exchange.