China fines Japanese car parts firms for price-fixing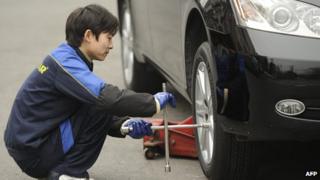 China has levied a record fine totalling 1.24bn yuan ($202m; £121m) on twelve Japanese car parts companies for price-fixing.
The country's anti-monopoly regulator said the companies were found to have colluded to reduce competition.
Japan's Sumitomo Electric and Mitsubishi Electric were among the firms that received the heaviest fines.
The ruling comes amid a crackdown on multinational firms found to have broken China's anti-monopoly laws.
China's National Development and Reform Commission (NDRC) said in a statement the Japanese firms "improperly affected the pricing for auto parts, entire vehicles and bearings".
Under China's anti-trust law, which was enacted in 2008, authorities can fine a company as much as 10% of its annual revenues.
The state broadcaster CCTV said the fine was the biggest China had imposed since its anti-monopoly law took effect.
China is the world's largest car market and auto makers have been under scrutiny following allegations they were earning high profits by overcharging customers.
On Sunday, China's state-run news agency Xinhua said Mercedes-Benz had been found guilty of fixing the cost of spare parts.
Other high profile car companies that have been targeted include BMW, Audi and Chrysler. No penalties on them have yet been announced.
Corruption crackdown
As part of its overall crackdown on corruption, the Chinese government has been conducting investigations into foreign business practices.
Over the past year, multinational firms in the pharmaceutical, technology and food sectors have come under particular scrutiny.
Last August, six producers of infant formula - all foreign companies - were given a record fine for price-fixing.
As a result, there have been rising concerns in the foreign business community that they are being disproportionately targeted.
However, China says it does not discriminate between domestic and overseas companies.
"China is a country ruled by law, everyone should be equal before the law," Li Pumin, the secretary general of the NDRC, said on Wednesday.
"It's no matter whether they are domestic or foreign-funded firms, they will receive a punishment as long as they violate laws," Mr Li said.