Fifa World Cup 'hits the poorest hardest'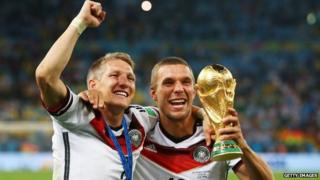 A leading international charity is calling for major sports governing bodies Fifa and the International Olympic Committee (IOC) to change their way of doing business around their showcase global events.
The Swiss-based NGO, Terre des Hommes, which is dedicated to stopping child exploitation in developing countries, wants to see a number of financial and social changes around World Cups and Olympic Games.
It wants Fifa - as a global group with a World Cup "product" worth billions of dollars - to implement the same stringent rules of corporate responsibility expected from other transglobal corporations.
"Just as garment retailers bear responsibility for the production conditions of their suppliers, this must also apply to Fifa and the whole of its 'commercial product' - the World Cup tournament," says Terre des Hommes chief executive Danuta Sacher.
"They must ensure that the World Cup is being produced for them under clean and safe conditions for children and their families."
'Social and financial price'
But according to Terre des Hommes, some 170,000 people lost their homes during the preparations for this summer's World Cup in Brazil due to the building or renovation of stadiums, roads, airports and other infrastructure projects.
It also says that thousands of families were forcibly resettled in basic huts without electricity and water. It warns that uprooting strongly increases the risk of families falling into poverty.
"If you look at the effects of such big sports events, they disproportionately hit the worst-off," says Ms Sacher.
"Host countries pay a social price, and also a high financial price, which then has a knock-on effect in the amount of social provision that the host nation can provide."
She says that estimates of the total cost of the World Cup to Brazil's public budget were between 6.5bn and 9.8bn euros (£5.16bn and £7.77bn).
Ms Sacher says that figure corresponds roughly to the amount spent in the whole of 2013 for Brazil's social welfare programme Bolsa Familia, which supports 50 million people.
Ms Sacher believes it is unfair that the host nation has to meet the bill for all of the infrastructure needed, while Fifa - which enjoys tax breaks and exemptions from World Cup host nations - makes billions of dollars out of the event.
Another concern Terre des Hommes has is around the banning of local people selling food, drink and trinkets on the streets around the stadiums. Fifa asks the host organisers to only allow licensed products from its own sponsors to be sold in the stadium environs.
Ms Sacher says that this ban creates hardship and poverty for tens of thousands of families, who are prevented from making a meagre, but desperately needed, living.
"We are asking for the global organisers to take into account the situation of the excluded and poor when they are planning their big sporting events - to make sure they are held for the advantage of everyone," she adds.
---
Fifa reaction
Fifa says it has been working with Terre des Hommes since 2013 in building and running the Football for Hope Centre in Bujumbura, Burundi, with the centre using football to support street children and bring them together with children from the local community.
It says it recognises a duty "that goes beyond the game and aspires to setting an example for international organisations in sustainability and corporate social responsibility".
Fifa also says it has worked closely with the United Nations and Unicef, and gives its full backing to highlight the importance of human rights and education for children around the globe.
Regarding evictions, it says it was "made aware of alleged resettlements of individuals due to stadium renovation and construction and inquired with the local authorities". It adds: "According to the Brazilian Sports Ministry and the host cities, the stadium renovations or constructions had caused no forced evictions." It says the Brazilian government informed it that less than 4,000 families in all of the 12 host cities were reallocated "because of general infrastructure improvements".
Fifa says the tax exemption which Brazil granted via governmental guarantees was primarily for the import of services and goods, such as volunteer uniforms, and car and bus fleets, that remained in the country after the tournament.
It says subsidiaries such as Fifa Ticketing, the Local Organising Committee and service providers were taxed according to local legislation, saying that: "Fifa paid taxes for every single ticket that was sold." Additional tax revenue, "as a result of investments in the event shall amount to as much as 16bn Brazilian reais (£4.4bn) - hence, much higher than the real public investment in the stadia".
On street vendors, it says that "primarily for safety, security and sanitary concerns, informal trade which might be commonplace in some venues" had been "limited or restricted" during the World Cup. It says it and the event organising committee provided a platform for host cities to include controlled informal trade into their matchday operations.
---
Construction concerns
Terre des Hommes has launched a Children Win campaign to highlight these hardships encountered by disadvantaged youngsters and their families.
It says it plans to meet Fifa representatives at football's major business forum Soccerex, which begins in Manchester on Monday, to discuss its concerns.
Terre des Hommes does believe that there can be potentially positive outcomes around major sports events, for example, health promotion, violence prevention or strengthening civil society.
But it says that to be of real value, these projects need to be sustainable after the sporting caravan leaves town.
Fifa president Sepp Blatter has said greater consideration will be given to the human rights situation in the candidate countries for hosting future World Cups.
Terre des Hommes has already started researching possible issues around the 2018 World Cup in Russia, including the plight of street children, and also wants to see more action to prevent workers dying on the construction of venues for Qatar 2022.
"We ask why Fifa - who can get national laws changed to suit their sponsors - cannot get laws changed in Qatar to make sure that people are not dying during the construction of stadiums," says Ms Sacher.
A Fifa spokesman said it had repeatedly urged the Qatari authorities to address any unacceptable conditions for migrant workers in the country.
"We have initiated a series of meetings to facilitate discussions on the issue of labour rights and working conditions with football stakeholders as well as other entities including human rights and labour organisations as well as trade unions," they added.
When nations sell the hosting of major events to their own citizens, they usually point to things such as job creation, infrastructure building, boosting tourism and selling the national brand overseas.
Ms Sacher says that while there may be short-term benefits, she believes there is "a bigger financial and social price to pay in the long term".
These include host nations being left with a number of costly "white elephant" stadiums that are never properly utilised.
"Also, the biggest business deals are not done on the ground to the benefit of the host countries, but overseas where the major sponsorship, advertising, TV and licensing deals are done."
Something else Ms Sacher would like to see is for Fifa (and the IOC) to agree to independent oversight of the way they operate.
"We believe Fifa and the IOC should be connected to a system of independent monitoring, and we believe it should be by the United Nations," she says.
"They [Fifa and IOC] say that they believe in public service and values, but this is not always what we see, and we believe the UN option would be the most suitable route to go down."