How Norway has avoided the 'curse of oil'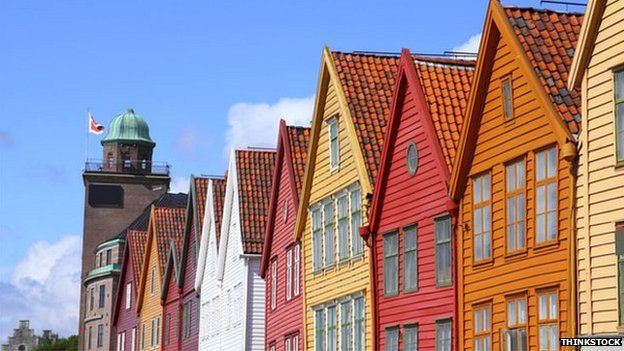 Hugged by mountains and perched on a stunning coastline of fjords, Bergen, Norway's second-largest city, has picture-postcard views.
As one of the centres of Norway's booming oil and gas industries, it is also a very wealthy place.
Yet there are few displays of ostentatious spending - there are no supercars with tinted windows, no designer handbag shops, and no queues of people outside exclusive nightclubs.
For while other countries have struck oil and then binged on the revenues, by contrast Norway is continuing to invest its oil and gas money in a giant sovereign wealth fund.
The fund, worth about $800bn (£483bn), owns 1% of the entire world's stocks, and is big enough to make every citizen a millionaire in the country's currency, the kroner. In effect, it is a giant savings account.
And most Norwegians are seemingly very content with this - according to a 2012 study by New York's Columbia University Norway is one of the world's happiest countries.
"We had to invest a lot of money before we could spend anything," says Prof Alexander Cappelen, from the NHH Norwegian School of Economics, explaining why the country has apparently avoided the pitfalls of vast wealth.
"In other countries the oil is much easier to extract, so they got the money straight away.
So, no spending bonanza for Norway. In fact there is a closely followed guideline that only 4% of the surplus from the fund is spent or invested in public projects.
"Actually we are spending less than 4% currently - we are saving," says Prof Cappelen.
There are several reasons, he says, why Norway is happy to save its wealth and shrug off the temptations of a luxury life.
"For this kind of system to work, you need to have an enormous level of trust," says Prof Cappelen. "Trust that the money isn't going to be mismanaged - that it's not going to be spent in a way you don't like.
"As a result of social democracy and egalitarian policies it is a homogenous society and has built up an enormous level of trust.
"We trust the government. We believe our tax money will be spent wisely. once you start trusting that others are contributing their share then you are happy to contribute yours."
So is Norway rich because of Norwegians high level of trust, or are its citizens trusting because they are rich?
"I think it is both," says Prof Cappelen. "High levels of trust make economic growth easier."
But this oil boom is tailing off. So what's next?
"Norway's economy is in a very fortunate situation. We are talking about a gradual shift over the next few years," says Norway's Finance Minister, Siv Jensen.
"We have had a slower growth in productivity over the past few years, and for this government we have to look at a competitive tax level and reducing red tape to attract investment.
"But it is true we have a higher cost level than any comparable country."
Those costs can be quite shocking for a visitor. In cafe overlooking Bergen's fish market, while sipping a cappuccino costing almost $10, Tone Hartvedt from Business Region Bergen explains that costs are simply comparable to wages.
"It may sound surprising, but for us it is not too expensive," says Ms Hartvedt. "We tend to have summer and winter holiday houses or cabins, and we can afford life here. It is comfortable."
This is surprising to the uninitiated visitor - after a trip to the local supermarket revealed that the cheapest pasta, bread, cheese and chopped tomatoes would come to around $50.
But, says Ms Hartvedt: "We pay our workers a wage that means they have a good quality of life. That is not so much the case in places like London.
"Here we respect hard work, but we don't believe that the highest paid worker in a company should earn vastly more than the lowest paid.
"This does mean that some very talented people leave for other countries where they will be paid more."
So, do people in Norway regard themselves as rich? "No, we don't think of things like that, it's for the future," she says.
On an island half an hour from Bergen, is Coast Center Base (CCB), a huge support centre for the oil and gas industry. There's a rig, fire engine red and vast, sitting in the harbour being checked over.
"I remember the days when there were plenty of farmers and fish farmers in Norway. Life has changed for the average Norwegian," says CCB's chief executive, Kurt Andreassen.
"This base was started up in 1974, and there has been a tremendous change in those decades. The welfare is now very high. It is quite different to 40 years ago, many people are educated - things have changed."
As for when the oil does eventually run out, "Norway will survive, but it will be a challenge for all of us," he says.
"Our challenge will be to utilise our expertise and use it in other areas."
It's a point of view echoed by Dag Rune Olsen, rector of Bergen University: "I worry we do not invest to a sufficient extent in other ways to generate income in the next decades.
"We are very well aware that the oil and gas resources are limited, and at least for Norwegian oil it will cost us more year by year to extract the oil," he says.
"It is evident we need to find other sources of income, and now we have the ability to invest - it is crucial that we do."
Perhaps this awareness that it won't last forever goes some way to explain the second-hand Volvos circling Bergen's winding streets, rather than the Porsches or Bentleys of wealthy parts of London.
Prudence and pragmatism rather than posing seems to be the attitude.
While there is an inkling of concern for what will become of Bergen, and Norway, when the oil runs out - most Norwegians remain confident about their prospects.
"We are in Norway, we are not worried about these things," reply students at the NHH Norwegian School of Economics, slightly uncomfortably, when asked if they are concerned about jobs.
"We will work hard and we will get jobs."
Related Internet Links
The BBC is not responsible for the content of external sites.