The world's most compassionate 24 hours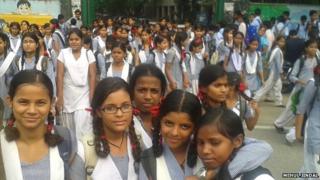 An online course in social psychology at Wesleyan University in the US is believed to be the world's most popular course, with 260,000 students.
And the final challenge for this vast number of students is to spend 24 hours in the most compassionate way possible. So who won?
One day last year a doctor walked into a school near her clinic in a rural area near New Delhi in India and taught 2,000 girls how to protect themselves against sexual abuse.
Dr Balesh Jindal's talks evolved into being constantly on call at her surgery for girls and their mothers and to teaching boys from impoverished backgrounds how to respect women.
She is paving a new way for women to protect themselves in India, where there has been anger at a number of high-profile rape cases and concern about the availability of sex education.
Global course
But Dr Jindal says it was a free, online course, open to anyone and taught from the other side of the world that gave her the impetus to approach that school.
She was attending a massive online open course (Mooc) in social psychology taught by Prof Scott Plous at Wesleyan University in Connecticut in the US. It is delivered by the Coursera online platform, founded by academics from Stanford University, which now has almost 10 million registered students.
At 260,000 students, Wesleyan's social psychology course is claimed as the most-followed in the world.
Participants are asked to complete a "day of compassion" as the seven-week course draws to a close, where they compete to be the most compassionate in a 24-hour period.
Winners receive $1,000 (£620) to donate to a cause of their choice and last year, they met the Dalai Lama.
The decision over the most compassionate is decided by other students on the course.
"I never labelled it as compassion. But I knew I was doing good," says Dr Jindal.
"When this compassionate day came up I never thought I would ever be in a reckoning to win it. For me, that was just routine."
Global debate
She says she had wanted to do something about the inequality in her country but had not known quite how, and the day inspired her to approach the local school.
Many girls she spoke to had been abused but had never told anyone.
"Nobody wants to tell their parents," she says. "They think it is their fault."
After winning the day of compassion, Dr Jindal gave the money to the Tagore International School in New Delhi.
She says the course has changed her life.
The course started last year and requires between four and eight hours' work a week.
Homeless help
Prof Plous, professor of psychology at Wesleyan, teaches via a webcam and intersperses his lessons with video footage of psychology experiments and quizzes.
As part of the course, students from across the world talk about different issues, such as how gender inequality is at play in their country, through video groups.
Other efforts for the day of compassion included a personal trainer, who tried to raise a dollar for each of 1,000 press-ups he did in the 24 hours, and ended up raising $6,000 (£3,700), which he gave to the Salvation Army.
Another student in London, Kellie Gillespie, invited a homeless person she used to see regularly for a cup of tea and a chat.
While talking to him, it emerged he had left his family home as a teenager, after an argument. Eventually, he allowed Ms Gillespie to call his home.
His mother was happy to hear her son was alive. Ms Gillespie then provided the bus fare to travel home to be reunited with his family.
'Break down barriers'
"It doesn't matter who you are, or what you do," says Prof Plous.
"You don't have to be a physician or in education. Anyone can look at what they can do and if they are dedicated enough they can make a difference in just 24 hours," he adds.
Prof Plous says he asks students to think about the person they were during the 24-hour period and if they preferred that person, to "break down the barriers" between the compassionate and every day version of themselves.
Mooc courses, particularly popular in the US, have been seen as opening up access to education.
But they are also developing new approaches.
"Elements of the course where studying moves from the computer screen into students' lives - that really deepens learning," says Simon Nelson, chief executive at FutureLearn, a UK-based platform for online courses.
"It allows us to break away from this model that learning stops in your twenties," says Daphne Koller, president of Coursera.
"I think it is really exciting people are taking online courses not just to get a better job or promotion but to try and become better people."