Fed chief Yellen says slack remains in US jobs market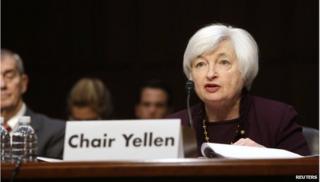 US Federal Reserve chair Janet Yellen has said there is still "remaining slack in the labour market".
It was understated by the unemployment rate, at 6%, she said.
She called for the slack to be "more nuanced" in the way it was assessed, due to "considerable uncertainty" about the level of employment.
Speaking to an annual Fed conference in the mountain resort of Jackson Hole, Wyoming, she also remained relaxed about the low interest rate policy.
Ms Yellen said the "underutilisation of labour resources" still "remained significant" to the US economy.
If inflation went up more rapidly than expected, she said, increases in the federal funds rate target could "come sooner" than expected and "could be more rapid thereafter".
'Deliberately vague'
But she added: "Of course, if economic performance turns out to be disappointing and progress toward our goals proceeds more slowly than we expect, then the future path of interest rates likely would be more accommodative than we currently anticipate."
Luke Bartholomew, manager at Aberdeen Asset Management Investment, said Ms Yellen was being "deliberately vague" by telling the market "nothing to see here".
"Unfortunately that's just making markets more desperate for answers," he added. "Her strategy is probably to deliberately underwhelm.
"She's saying the Fed might raise rates soon but then again might not. That kind of vagueness suits her because it leaves options open."
He said there was "some hint" she was still concerned about the labour market.
"Which is good because one of the biggest questions about the US economy is just how many of the long term unemployed will ever return to the labour market.
"The fear is that no one, least of all Janet Yellen, knows the answer," he added.