BT warns it will increase phone bills by 6.5%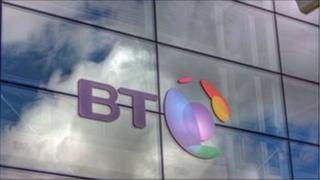 BT has warned millions of customers it is increasing its prices by up to 6.5% from December this year.
It will increase the line rental for direct debit customers by 6.25% to £16.99, and the rate for calling UK landlines by 6.44%.
The set-up fee for landline calls, residential calls, to the speaking clock and call return charges will also increase for some or all customers.
But BT said it had added "extra money-saving options" for poorer customers.
'Taken care'
The majority of its customers were on inclusive call packages and would not pay set-up fees or pence per minute charges on calls, said BT.
BT's option for low-income customers, BT Basic, will stay the same at £5.10 a month with a call allowance.
John Petter, chief executive at BT Consumer, said: "We have taken care to make sure that low-income customers avoid price increases."
He added: "We have added extra money-saving options for low-income customers and for customers who only want a phone line for calls."
Broadband prices are going up by as much as 6.49%, although BT said its current "high profile" press and TV broadband offers would stay at the same price.
It added that call bills had fallen 14% in the past five years.
Sky, BT's rival, is set to increase some of its tariffs from September.