Mozilla's first low-cost smartphone on sale in India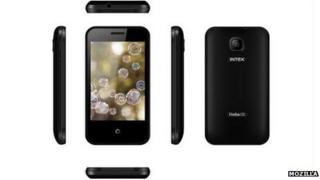 Mozilla, a company best known for its Firefox browser, has launched a new low-cost smartphone in India that will retail for 1,999 rupees ($33; £19.90).
The phone is only for sale on India's online shopping site, Snapdeal.
The Intex Cloud FX runs on Mozilla's Firefox operating system and as such it will be the first low-cost device running that system available in Asia.
India's emerging market is regarded as the world's fastest growing for low-cost smartphones.
Various emerging markets across Asia are seen by mobile device manufacturers as the key remaining areas for massive growth.
"With the launch of Intex Cloud FX, we aim to enable the masses to get smartphone experience at the cost of a feature phone," Mozilla said in a statement.
The device is expected to "redefine the entry-level smartphone and create strong momentum in Asia", said Mozilla's president, Li Gong.
Analysts expect these types of low-cost smartphones to give users in emerging markets an affordable opportunity to upgrade from so-called feature phones - or phones that do not easily access the internet.
But they are not designed to rival devices such as Apple's iPhone or Samsung's Galaxy phones.
'App-gap'
"The price point is what will grab the market's attention," said Bryan Ma of research firm IDC, "but that's just one factor in all this."
"It's the ecosystem we look at - or what kind of applications are available on the phone. That is more worth talking about."
Mr Ma said one factor users should consider is that the instant messaging application, WhatsApp, which is free for a certain period, would only be available on the phone through a third party.
"That's an example of what we might call an 'app-gap' - or the lack of applications on cheaper smartphones compared to those available on phones that use Android and other such operating systems," he explained.
"And that will make a difference to the value of the phone in a market in like India."
Popular applications such as Facebook and Twitter will be available on the new phone, though, which Mr Ma said was definitely aimed at users upgrading for the first time from a feature phone to a cheap smartphone.
India's Intex Technologies manufactured the new Mozilla smartphone which has a memory of up to 4GB, Bluetooth and wi-fi, as well as dual-SIM capabilities.
The handset also supports several languages including Hindi and Tamil.
Mozilla is expected to make more announcements about new smartphones in India this week.