Service sector growth slowed in latest quarter, CBI says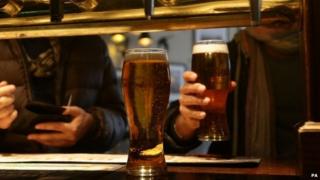 Service sector business growth slowed in the three months to August, according to a survey from business lobby group, the CBI.
Growth in business volumes in consumer services was the slowest since last year, the CBI said.
However, optimism among consumer services firms is strong, with 48% of companies more upbeat than three months ago, and only 4% less optimistic.
In addition, more firms in the sector were planning to take on employees.
More than a quarter of consumer services firms - which include hotels, bars, restaurants, travel and leisure firms - had plans to increase investment in vehicles, plant and machinery.
"The slowing in the pace of growth and profits in the service sector reflects our view that momentum in the economy will ease in the second half of the year," said Katja Hall, CBI deputy director-general.
"But this doesn't necessarily mean a gear change in the recovery. It's encouraging that our service sector firms continue to feel upbeat, especially when looking ahead to the next quarter."
Professional services companies - including accountancy, legal and marketing firms - told the CBI that their business levels were as expected, but that volumes were likely to be more robust next quarter.
Growth in the numbers employed in the business and professional services sector reached its highest rate in almost seven years.
Expectations for employment growth in the next quarter reached a record high. However, a shortage of professional and clerical staff is expected to act as a brake on growth.