WPP advertising profits up despite sterling 'ravages'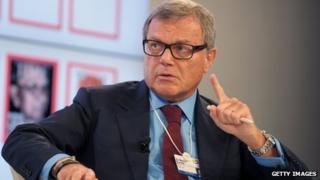 The world's biggest advertising group, WPP, has said it faced "strong currency headwinds" in the first half of 2014.
It reported a 1.5% rise in headline pre-tax profit to £532m ($882m), but when currency movements were stripped out the rise was 15.6%.
WPP announced a 2.7% increase in reported revenue to £5.47bn.
"The strength of sterling has ravaged... our revenue figures and profits figures on a reported basis," said founder and boss Martin Sorrell.
He said said that the strength of sterling had reduced WPP's overseas sales and profits.
"But when you look at our underlying [performance] it's very strong," he told the BBC.
Sanctions worries
WPP employs some 175,000 people in 3,000 offices around the world.
Mr Sorrell said that geopolitical threats remained for the global economy, including in the Middle East and the dispute between Ukraine and Russia.
He said WPP had seen a "very strong" first half in its Russia business, but that he expected it to weaken in the second half due to the effects of US and EU imposed sanctions on Russia.
Mr Sorrell said he would like to see serious dialogue around the issue of sanctions, as he feared they could have a wider knock-on effect on other parts of the economy in Western Europe, including trade and oil prices.
'Global footprint'
He also said the possibility of a Scotland "yes" vote for independence added to current business uncertainties.
Mr Sorrell said that firms should start planning now for such a possible outcome, including looking at future investment and employment plans.
Richard Hunter, head of equities at Hargreaves Lansdown Stockbrokers, said WPP had maintained its positive momentum from the first quarter.
But he added that "WPP's global footprint has led to difficult headwinds in the form of currency translation allied to the strength of sterling whilst, inevitably, broader geopolitical concerns are unhelpful to corporate sentiment".