Lockheed Martin in space junk deal with Australian firm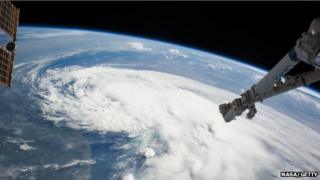 US defence giant Lockheed Martin has struck a deal with an Australian technology firm to track space debris that can damage satellites.
It has signed a "strategic co-operation agreement" with Canberra-based Electro Optic Systems (EOS) to build a new tracking station in Western Australia.
The site will employ advanced optical and laser technology to detect, track and identify specific space objects.
Debris threatens orbiting satellites daily and can cause millions in damage.
"Ground-based space situational awareness is a growing priority for government and commercial organisations around the world that need to protect their investments in space," said Lockheed Martin Space Systems executive vice president Rick Ambrose in a statement.
"We'll offer customers a clearer picture of the objects that could endanger their satellites, and do so with great precision and cost-effectiveness."
There are nearly 2,000 commercial and government satellites orbiting the Earth.
However, they face up to 200 threats a day from debris as small as a fingernail given they are travelling at speeds of about 17,500 miles an hour.
It is estimated that there are 300,000 pieces of space junk ranging from one-centimetre to the size of bowling balls, and that on average one satellite is destroyed each year.
EOS chief executive Dr Ben Greene says that they have invested 80m Australian dollars ($74,6m; £45m) into developing their light-based technology systems, which have become cheaper than the use of radar.
Currently, mostly radar-based systems are being used to track space junk, such as the US Air Force's Space Fence. It can follow as many as 200,000 objects in space.
EOS is one of the largest makers of major optical telescopes in the world. They also operate Australia's Space Research Centre at Mount Stromlo.