Foxtons warns of slowing market despite jump in profits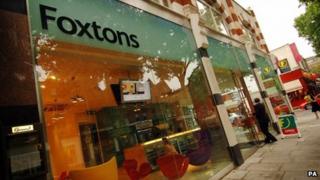 Estate agent Foxtons has reported a big rise in half-year profits, but warned that it expects business to slow down in the second half of the year.
Pre-tax profits jumped 57% to £23m in the first half of the year, helped by "higher sales and mortgage volumes".
But it added that tougher mortgage rules and the expectation of an early interest rate rise are already having an impact on short-term demand.
Shares in the company fell by 6% following its comments.
'Strong trading'
London-based Foxtons said the number of property transactions in the capital rose 30% in the first four months of the year.
Sales over the six-month period rose 16.2% to £72.8m.
Foxtons chief executive Nic Budden said: "I am pleased to report continued strong trading during the first half of 2014.
"The combination of higher sales and mortgage volumes, together with the efficiency of our operating model has led to a significant increase in revenue and profits."
The estate agent said that the property market in London and the South East was "disproportionately valuable" due to "high property density and resilient prices".
The company is to pay out £12.8m to shareholders though an interim dividend and a special interim dividend after "high levels of cash generation".
However, Foxtons warned that tougher mortgage lending rules may slow growth in the market over the coming months.
The rules - known as the Mortgage Market Review (MMR) - came into effect at the end of April, and meant home loan applicants had to give more details about their income and outgoings to secure a mortgage.
In addition, expectations of an early rise in interest rates could also lead to fewer property transactions in the second half of the year, Foxtons said.
Two members of the Bank of England's Monetary Policy Committee (MPC) voted for a rise in interest rates in August, the first time in three years that policymakers have done so.