Supermarket sales growth 'at 10-year low'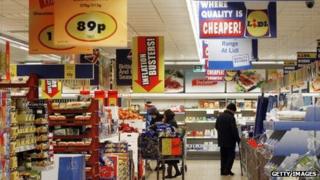 Low inflation in the price of groceries has led to growth in supermarket sales hitting a 10-year low, according to research firm Kantar Worldpanel.
Supermarket grocery sales grew by 0.8% in the 12 weeks to the end of August from a year earlier, the firm said.
Price wars and deflation in the price of staple goods drove inflation down to a record low of 0.2% for the period.
The main gains in market share were made by discounters Aldi and Lidl, Kantar's figures showed.
Aldi's market share rose to 4.8% from 3.7% a year earlier, while Lidl's share climbed to 3.6% from 3.1%.
However, Tesco continued to lose ground. It sales were down 4% from a year earlier, with its market share dropping to 28.8% from 30.2% a year ago.
"Competitive pricing among the big grocers and deflation in the price of staple items such as vegetables, milk and bread has driven inflation down yet again," said Kantar Worldpanel director Edward Garner.
"This naturally impacts on the overall growth of the grocery market, which has fallen to a 10 year record-low of 0.8%," he said.
The "big four" supermarkets - Tesco, Asda, Sainsbury's, and Morrisons - still dominate the UK supermarket landscape, holding almost three quarters of the market between them.
However, discounters and high-end supermarkets such as Waitrose have steadily eaten into their market share.
Sales at Waitrose were up 3.6% from a year earlier, and its market share edged up to 4.9% from 4.8%.