Japan's economy signals stagnation and weakness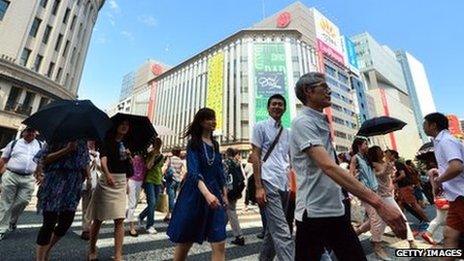 Japan's economy has shown signs of stagnation and some weakness as households spent less and factory output stayed flat in July.
Official data released on Friday also showed consumer inflation stayed unmoved at 3.3% from the month before.
Japan raised its sales tax from 5% to 8% in April so analysts said "real" inflation for July was actually 1.3%.
Japan's economy, which is the world's third-largest, suffered from deflation for almost two decades.
The central bank's current target for the inflation rate is 2%.
Since coming to power in 2012, Japan's Prime Minister Shinzo Abe has seen his various reforms aimed at reviving the economy provide some relief to the country's deflation concerns.
Mr Abe's reforms, dubbed 'Abenomics', have been aimed at boosting inflation, among other targets, in the hope that consumers would spend instead of save.
Private consumption makes up some 60% of Japan's economic activity and deflation trends in the country had seen consumers hold onto their money in the hope of even lower prices later on.
Retail sales in July showed some small hope, rising by 0.5% from a year earlier, after a fall of 0.6% in June.
Overall however April's controversial sales tax hike may have had an adverse impact on the economy, at least in the short term, hurting the nation's purchasing power.
In the April-to-June period, official data showed Japan's economy had contracted by 1.7% , compared to the earlier quarter.
And on an annualised basis, data showed it had shrunk by 6.8% - though the numbers followed large gains in the previous quarter.
"Basically price trends in Japan have been stabilising," Martin Schulz from the Fujitsu Research Institute in Tokyo told the BBC on Friday.
"We had this big shock in April, when the sales tax hike was increasing costs for consumers by 3%, and real incomes were diving down as well," he said.
"This leaves 1.3% real consumer inflation in Japan, which is a comparatively good level, but it doesn't mean we are already on a positive trend."
Mr Schulz said while the nation's economy would likely not see an upward trend in the coming months, that the current economic landscape should encourage the government to introduce even further reforms.
"We are very much hoping that the economy is recovering," he explained, "and we are expecting third-quarter growth of about 2.5%."
"And this should be increasing a little bit towards the end of the year … and that will make people more positive in their overall outlook, which would help create a positive trend."