UK economic growth forecast upgraded by BCC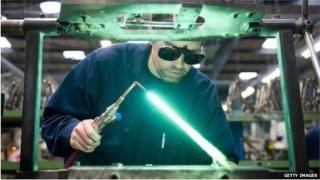 The UK economy will grow faster than expected this year and next, business lobby group the British Chambers of Commerce (BCC) has predicted.
The BCC now expects the UK economy to grow by 3.2% in 2014, rather than 3.1%.
A stronger labour market and higher expected growth for the second half of the year were two reasons for the more optimistic prediction, the BCC said.
However, the group predicted weaker UK exports, and warned that this could affect long-term growth.
"We must ensure the stellar growth in 2014 is not a flash in the pan," said BCC director general John Longworth. "We need to invest and export more, innovate, and build."
The estimate of 3.2% GDP growth is well above the 2.7% forecast by the Office for Budget Responsibility - the government's independent fiscal watchdog - made in March.
Earlier this month the Bank of England upgraded its growth forecast for this year to 3.5% from 3.4%.
Rebalancing
In addition to a better-than-expected 2014 estimate, the BCC also revised its estimate for 2015 growth up from 2.7% to 2.8%, due to strong employment figures.
However, the lobby group revised its UK exports growth forecast down from 1.9% to 0.8%.
Lower-than-expected export figures for the second quarter of 2014, and a downgrade of historical export figures for 2013 by the Office for National Statistics were factors in its revised estimate, the BCC said.
"It is disappointing that we have downgraded export growth for the next two years as a strong international trade performance is key if we are to steer away from a reliance on consumer spending," said Mr Longworth.
The BCC's export forecast is less optimistic than an estimate made by the Bank of England earlier this month, which predicted export growth of 2.25% this year.
Retail boost
A separate survey from the CBI found retailers at their most optimistic in August since May 2002.
The business lobby group's latest Distributive Trades Survey also said sales grew strongly in August, with 51% of respondents seeing trade rise from a year earlier, while 14% recorded a fall in sales.
Sales volumes grew strongly among grocers, chemists, and furniture and carpet retailers, the CBI said, while specialist food and drink stores saw sales fall.