Deutsche Bank in mis-reporting fine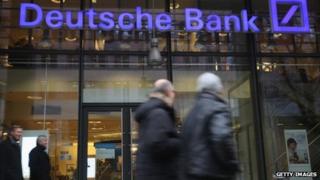 The London branch of Germany's Deutsche Bank has been fined £4.7m by UK regulators for inaccurate reporting.
The Financial Conduct Authority (FCA) said the bank mis-reported 29m transactions between November 2007 and April 2013.
"There is simply no excuse for Deutsche's failure to get this right," said the FCA in a statement.
Deutsche Bank said it had undertaken a "complete review" of its reporting systems to rectify the problem.
The mis-reporting involved "contracts for difference" - a derivative that lets people bet on share price movements.
"We have repeatedly highlighted the importance of accurate transaction reporting and taken enforcement action against a number of firms, " said Tracey McDermott, the FCA's director of enforcement and financial crime.
"Other firms should be in no doubt about our continued focus on this issue," she added.
The FCA has already fined 10 other firms for breaching transaction reporting rules.
Deutsche Bank's fine was reduced by 30% because it agreed to settle at an early stage, although the FCA said the size of the fine reflected the number of mis-reported transactions.
The FCA said it had previously warned Deutsche in private about similar transaction reporting failures.
Deutsche Bank said: "In March 2013 a software coding issue in our reporting system for certain CFD and swap transactions was identified. We immediately undertook a complete review of our transaction reporting systems to rectify the problem and strengthen our control framework."