DVLA prints cut out and keep car tax disc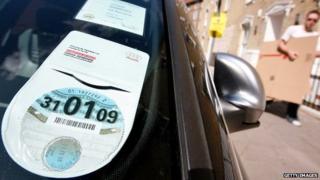 Drivers will have to cut out their own vehicle tax discs during the death throes of the paper system.
For years, motorists have been carefully tearing the disc from perforated paper in an annual challenge to which some have a sentimental attachment.
But the paper system will be replaced by an electronic system on 1 October.
The Driver and Vehicle Licensing Agency (DVLA) has now run out of perforated paper and will print in-house instead.
"Tax discs can be expensive to produce and we have always planned to run down stocks in the run up to 1 October," said a spokeswoman for the DVLA.
"To make sure we deliver the best possible savings to the taxpayer we have not procured more stock for these last few weeks, and will instead print the remaining discs in house."
That means drivers will have a cut out and keep disc if they renew their tax in the final few weeks of dispatch.
This only applies if the disc comes directly from the DVLA. The Post Office, which also supplies tax discs, has its own stock of perforated discs that it will continue to use.
Move into 'modernity'
The disc was introduced in 1921 but officials say it is no longer needed with the DVLA and police now relying on an electronic register.
Chancellor George Osborne announced in his Autumn Statement in December that a new system would allow people to pay the charge by monthly direct debit.
The Treasury said it showed government was moving "into the modern age".
Vehicle tax was introduced in the 1888 Budget and the system of excise duty applying specifically to motor vehicles was introduced with the Roads Act 1920, with the tax disc appearing the following year.