Eurozone inflation rate nears five-year low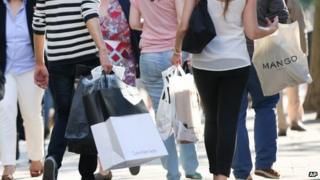 The eurozone inflation rate has fallen to 0.3% in August, near a five-year low, adding to fears of a deflationary spiral, according to Eurostat figures.
That compares with a rate of 0.4% in July.
The drop, driven by lower food and energy prices, will add to pressure on the European Central Bank (ECB) to take action to stimulate the economy.
Separate figures showed the unemployment rate remained near a record high at 11.5% in July.
The ECB meets next Thursday to decide on interest rates.
Most analysts are not expecting any action yet, but speculation is growing that in the coming months it may inject money into the system, a practice called quantitative easing, in the hope of stimulating growth and pushing up prices.
Mario Draghi, head of the ECB, has previously described inflation at below 1% to be in a "danger zone".
"There is plenty of ammunition here... to argue for more policy support," wrote Jennifer McKeown from Capital Economics in a research note,
"While the Bank is unlikely to act at its meeting next week, it is likely to hint that quantitative easing is firmly on the table," she added.
Core inflation, which excludes food and energy, rose to 0.9% from 0.8%.
---
Analysis: Andrew Walker, BBC economics correspondent
Deflation isn't always a disaster. It depends on the circumstances. But in the eurozone's current situation, even positive but very low inflation is troublesome, never mind the outright deflation that might be lurking.
The reason is debt. Households, firms and governments in many eurozone countries have a lot of it and are trying to get it down.
Falling prices means firms get less cash coming in, and it hits government tax revenue. It can also mean that wages and salaries fall.
But debts do not. Debtors have less cash to deal with a fixed liability.
To look at it another way - when interest rates are already low, slowing inflation means that real interest rates are rising.
Not what you want in an economy where growth, according to figures for the second quarter of the year, has come to a halt.
---
The jobless figures showed improvements in Spain, Portugal and Ireland. "Along with Germany, these countries accounted for the bulk of the improvement seen over July," said Timo del Carpio, E uropean economist at RBC.
"The notable exceptions this month were once again the usual culprits. France's headline rate edged up to 10.3%, driven by a 19,000 increase on the month. More notably, Italy's unemployment rose to 12.6%, once again a hair's breadth short of its record peak," he added.