UK manufacturing growth at 14-month low, PMI survey finds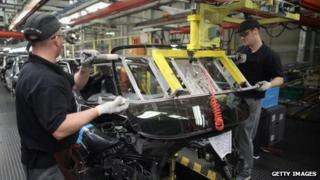 Growth in the manufacturing sector has slowed, with both new orders and output increasing less rapidly than before, two surveys have suggested.
The Markit/CIPS UK Manufacturing Purchasing Managers' Index (PMI) edged down in August to 52.5 from 54.8 in July, its lowest reading for 14 months.
However, the sector still grew as a PMI figure over 50 indicates expansion.
A separate survey from the EEF trade body, conducted between 30 July and 20 August, also found growth had slowed.
Sustaining growth
Markit said the slowdown was broad based with new jobs, export orders and new business all weakening.
Despite the slowdown, Markit said that the pace of expansion in UK manufacturing still remained slightly above its long-term average.
"Sustaining the upturn is still a positive in itself," said Markit senior economist Rob Dobson.
However, he warned the slowdown meant the sector would provide a smaller boost to the UK's overall rate of growth this year.
Global uncertainty weighs
The EEF said that, because of the recent slowdown, it now expected the manufacturing sector to grow by 3.3% in 2014, down from its previous forecast of 3.5%.
"UK manufacturing cannot insulate itself from global market conditions and this is clearly shown in the dip in output," said Tom Lawton, head of manufacturing at accountancy firm BDO, which helped with the EEF survey.
Despite the slowdown, the rate of growth forecast for 2014 by the EEF would still mark the sector's fastest expansion since 2010 when output grew by 4.2%.
The EEF also said that manufacturing firms were still expecting a positive third quarter, and expected to increase their spending for a 17th consecutive quarter.
Jeremy Cook, chief economist at the currency exchange company, World First, said the surveys pointed to a "broad slowdown" in the sector.
"While the worst days of the recession are definitely behind us, this survey also suggests that the finest days of the recovery are too. Gains are going to be a lot more hard-fought," he added.