Premier League transfer spending hits £835m mark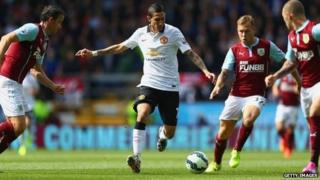 Premier League clubs have spent £835m on new players during the summer transfer window, having broken their previous record of £630m set last year.
Analysis from Deloitte shows that of the money spent, £530m has gone overseas, £240m to Premier League clubs and £65m to Football League teams.
The transfer window closed at 23:00 BST on Monday, 1 September.
It was also the closing transfer deadline day in the English Football League, and in the Scottish leagues.
Dan Jones, partner at Deloitte's Sport Business Group, said: "In a summer where the world's best players were on show at the World Cup we have again seen how Premier League clubs are able to successfully compete on a global stage in terms of attracting talent.
"We continue to see the increased resources that Premier League clubs enjoy, as a result of improved broadcast deals, translate into investment in players.
"Last season the average Premier League club received over £25m more in central broadcast distributions than they did in 2012/13, which has helped fuel a new record spend this summer."
Manchester United spent £150m on new talent in the window just closed - the highest ever gross spend by a Premier League club.
'Liquidity in market'
Simon Chadwick, professor of sport at Coventry University, said that Uefa's Financial Fair Play (FFP) rules might also be playing a part in the increased spending on transfers.
"It is ironic that we are seeing this spending given that FFP was supposed to bring a measure of caution to club spending," said Prof Chadwick.
"But it may be that clubs were holding back on transfer spending in the past couple of seasons, until they saw clear signs from Uefa about what was acceptable and what was unacceptable.
"The big threats of taking clubs to court or banning them from European competition have not really materialised, and apart from Manchester City and PSG, clubs have pretty much come out of it unscathed."
In addition, he said that the increased spending could be a knock-on effect of major clubs in Europe such as Real Madrid, Barcelona, and Manchester United paying out large sums for individual players.
They have paid, respectively, £60m, £75m, and £59.7m, for James Rodriguez, Luis Suarez, and Angel Di Maria.
"They have introduced liquidity into the market, which is trickling down across the European leagues. For example, Liverpool have been beneficiaries of the trickle down effect," he said.