Hermes and LVMH call a truce to 'handbag war'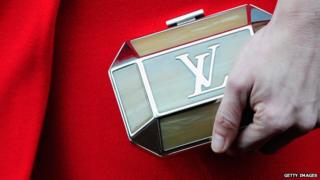 A long feud between luxury goods manufacturers Hermes and LVMH, nicknamed the "handbag war", has come to an end after the two companies reached a settlement.
LVMH, whose brands include Louis Vuitton, Dior and Givenchy has agreed to relinquish most of its 23.2% in Hermes.
LVMH has also agreed not to buy shares in its rival for five years.
The row began in 2010 after disclosure that LVHM had built a stake in Hermes.
Wednesday's settlement effectively ends the possibility of LVMH making a takeover bid for Hermes.
Shares in Hermes, which makes Birkin and Kelly handbags, ended the day 3.4% lower, having fallen nearly 10% earlier. LVMH shares rose 2.9%.
Franklin Pichards, a director at Barclays France, said: "The speculative premium has disappeared."
Under the agreement, LVMH will redistribute its stake to its shareholders and institutional investors.
It ends four years of legal action between the luxury brands.
The 177-year-old LVMH, run by billionaire Bernard Arnault, is the largest luxury goods company in the world.
In 2010 it disclosed that it had built a 17% stake in Hermes, going on to purchase further shares. Hermes complained that LVMH had not properly disclosed its stakebuilding.