Standard Life shares jump 10% on sale of Canadian business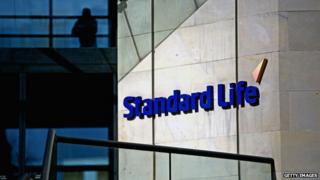 Shares in Standard Life rose 10% on news it is selling its Canadian unit to Manulife Financial for $4bn Canadian dollars ($3.7bn; £2.2bn) in cash.
Standard Life will return £1.75bn of the proceeds to shareholders, equivalent to 73p a share.
The sale includes its Canadian long-term savings and retirement, individual and group insurance and investment management businesses.
The transaction is expected to be completed in the first quarter of 2015.
Scotland's largest insurer will see its products distributed through Canada, US and Asia as part of the deal.
Standard Life put its Canadian business up for sale a few months ago and plans to increase its shareholder dividend once the deal with Manulife is completed.
Standard Life Investments chief executive Keith Skeoch said the sale would create "new opportunities".
"It will also deepen our distribution capability with John Hancock in the United States and strengthen our profit margin and therefore our ability to reinvest in our business," he said in a statement.
'Good deal'
Manulife, which is Canada's largest life insurer, has been looking to expand its presence in the UK, which the deal will help achieve.
The purchase of Standard Life's Canadian business also marks its second-largest acquisition. In 2004, it bought rival John Hancock Life Insurance for $10.9bn,
Manulife said the deal with Standard Life was expected to add three cents annually to earnings per share over the next three years.
The purchase will also allow it to more than double its presence in the largely French-speaking Canadian province of Quebec.
Morningstar analyst Vincent Lui said it was a "good deal" for Manulife.
"Quebec is a market that has been to an extent ignored by a lot of the large Canadian insurers, so this deal gives Manulife a quick strategic entry point into that market," he said.
Last month, Standard Life reported a 12% rise in first-half operating profit, thanks to increased demand for its auto-enrolment pensions.
Operating profit increased to £339m in the first six months of 2014, compared with £304m a year earlier.