US pharmacy giant CVS ends tobacco sales and changes name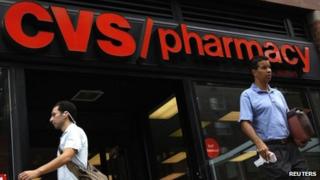 US pharmacy chain CVS Caremark has stopped selling tobacco products nearly a month earlier than planned.
They have also changed their corporate name to CVS Health to reflect the change, although the signage on their drugstores won't change.
CVS expects to lose about $2bn (£1.2bn) in annual revenue from the move, which rivals claim will have little impact on reducing smoking.
CVS shares closed at their highest value in 34 years on the news.
"By eliminating cigarettes and tobacco products from sale in our stores, we can make a difference in the health of all Americans," CVS chief executive Larry Merlo said in a statement.
"As CVS Health, we are tobacco-free, reinventing pharmacy and taking our place among leaders in the health care community."
The Rhode Island-based company is the biggest seller of prescription drugs in the US and is looking to position itself as a healthcare provider. It operates nearly 8,000 drugstores, as well as 900 medical clinics.
CVS typically used to house cigarettes behind its checkout counters, but will now stock nicotine gum and signs urging smokers to quit the habit.
Smoking kills
CVS announced in February that it would no longer sell smoking products in a setting where health care was offered starting from 1 October.
The White House issued a statement applauding the decision and calling for others in the industry to follow suit.
It "will help advance my administration's efforts to reduce tobacco-related deaths, cancer, and heart disease, as well as bring down healthcare costs," US President Barack Obama said.
Retail pharmacies account for about 4% of US tobacco sales. However, Walgreens, which owns the most drugstores in the US, and Rite Aid have no plans to cease their cigarette sales.
Nearly half of Americans used to smoke at the industry's peak in 1954. Now about 18% of US adults smoke.
Tobacco use is the single largest preventable cause of death in the US, according to the Centers for Disease Control and Prevention (CDC).
Cigarette smoking kills more than 480,000 Americans aged 35 years and older every year, according to a report this year by the US surgeon general.