German factory orders raise economic hopes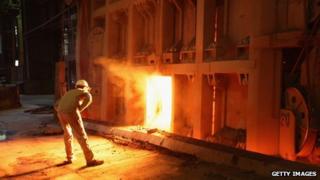 The strongest monthly rise in German industrial output in over a year is an 'encouraging signal' for the economy, Germany's statistics agency has said.
German industrial output rose 4.6% in July despite concerns over the Ukraine crisis, Destatis said.
The economy ministry figure was much higher than many economists had forecast, and comes after a 2.7% fall in output in June.
Foreign orders made up the bulk of the rise in demand, the ministry added.
Domestic orders increased 1.7% and foreign orders rose by 6.9% in the month.
The rise in industrial orders contrasts with figures last month from the economy ministry showing that the economy shrank in the second quarter by 0.2%.
Following those weak figures, the government warned that the German economy had been "losing momentum".