TUC head Frances O'Grady attacks Tories' union curb plans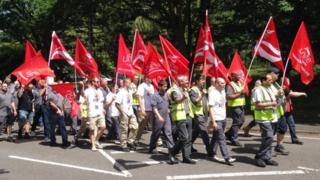 Conservative plans to curb trade union powers have been denounced by the head of the Trades Union Congress (TUC).
Frances O'Grady said moves to require higher strike ballot turnouts and to restrict picketing were "desperate".
And with a series of public sector strikes likely in October, she accused the government of being "out of touch" over the issue of public sector pay.
Her comments come ahead of the 146th Trades Union Congress, which starts this weekend in Liverpool.
The Conservative Party has pledged to introduce a 50% turnout requirement in strike ballots. It also wants a limit on how long a strike mandate can last.
If elected next year, it also plans to put a code of practice on picketing on a legal footing.
But the TUC general secretary described that as a "desperate attempt to attack union rights", which she said had not been thought through.
"There are clearly people working on detailed proposals that we won't see until the manifestos are published," she said.
"But I think anyone who cares about civil liberties ought to be jumping up and down now about what they are planning."
Conservative ministers have long criticised strikes that have crippled public transport in London or hit public services on the basis of ballots with low turnouts.
But Frances O'Grady accused the Tories of seeking to introduce thresholds that would not apply to any other democratic election in the UK.
With some unions calling for electronic balloting, she said that the government should be making it easier for people to vote right across society.
Pay dispute
"Britain Needs a Pay Rise" is the theme of this year's gathering of trade unions.
It comes as public sector unions are planning set to step up industrial action over continued pay restraint.
Millions of workers across local government, the civil service and the NHS have endured pay freezes followed by up to two years of pay capped at 1%.
It's one of the reasons why Ms O'Grady says that while the economy is recovering, people are not feeling it.
"I genuinely think that this government just doesn't get it," she says. "I think it is true, this issue about being out of touch."
She described as "arrogant and high-handed" the government's decision to override the NHS pay review body recommendation of a 1% pay rise.
Unions say that means up to 60% of NHS staff and 70% of nurses were denied a pay award this year.
"I'm really struck by how offended workers in the health service feel," she said.
Strike ballots
Hundreds of thousands of health workers across the NHS are currently being balloted over industrial action.
It could lead to the first NHS strike over pay since the 1980s.
Unions with no history of disputes are taking part.
"I never thought I would see the day when midwives would be balloting for strike action," said Ms O'Grady.
Health Unions may take industrial action on 13 October. Local government workers are set to strike the following day.
"My expectation is that unless the government comes to the table, we'll see a mix of industrial action and protests," she says.
The TUC is organising a major march to highlight pay in London on Saturday 18 October.
On Labour's emerging policy agenda, the TUC boss said that there was growing confidence in union circles.
She cited Labour's commitment to raise the minimum wage and its plans to build hundreds of thousands of new homes.
Labour has also promised to crack down on the abuse of zero-hours contracts and to repeal the Health and Social Care Act, which unions say has opened up the NHS to privatisation.
Labour leader Ed Miliband is expected in Liverpool on Monday night, when he will speak at the TUC's General Council dinner.
The following day, Mark Carney is set to become just the second Governor of the Bank of England to address the TUC.
"I'm pleased that the governor of the Bank of England thinks that shop workers, engineers and nurses are important enough to come along not just to talk to, but to take questions from," Ms O'Grady said.
But with economists expecting interest rates to move upwards in the coming year, she warned against rate hikes that would choke off the recovery and hurt mortgage payers.