Halifax sees house prices 'easing' as inflation moderates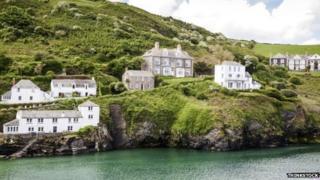 The increase in house prices may have started to ease, according to the Halifax, the nation's largest mortgage lender.
In its latest survey, it said prices across the UK in the three months to the end of August rose by 9.7% - significantly down from 10.2% in July.
The quarterly change was also down.
Prices in the three months between June and August were 3% higher than in the previous quarter, down from 3.5% in the previous month.
Martin Ellis, Halifax's chief housing economist, said there had been an improvement in housing supply - both second-hand homes coming on to the market, and increased numbers of new flats and houses.
"These trends, if sustained, should help to improve the balance between supply and demand, contributing to an easing in the pace of house price growth," he said.
The number of new buyers making inquiries also fell in July - the first time that has happened since January 2013.
The interactive content on this page requires JavaScript
Restrictions
The average house price is now £186,270, according to the Halifax, the highest level since April 2008.
From July to August, prices rose by just 0.1%. Monthly figures are notoriously volatile, and do not provide an accurate guide to market trends.
Nevertheless that compares with a monthly jump of 1.2% between June and July.
A number of factors may be combining to limit enthusiasm for home-buying.
Among them is the likelihood that interest rates will begin rising at the end of this year, or early in 2015.
The Bank of England's Financial Policy Committee (FPC) is also in the process of imposing restrictions on lenders.
Borrowers will have to show that they could withstand a 3% rise in mortgage rates, within the first five years of the loan.
Lenders will also be limited in the number of riskier loans they can provide.
House price calculator
Use our calculator to see where you can afford to rent or buy