Japanese consumer confidence dips in August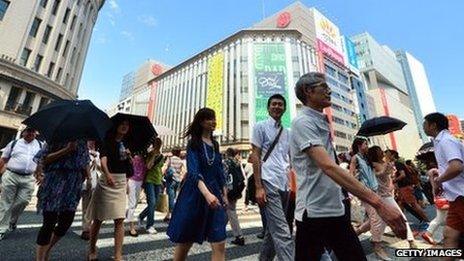 Japanese consumer confidence worsened for the first time in four months in August, an official survey suggests.
An index reading of 50 indicates there are equal numbers of optimists and pessimists.
The survey, which includes views on incomes and jobs, comes just a day after data showing Japan's economy shrank 1.8% between April and June.
The worse-than-expected fall in GDP was blamed in part on a rise in the nation's consumer sales tax introduced in April to 8% from 5%.
Another rise is planned for 2015.
There are now calls for Prime Minister Shinzo Abe to delay the planned increase, while the central bank faces fresh demands to expand its stimulus programme.
Mr Abe is expected to make a decision in December about a second hike to the sales tax, which would see it move to 10% in October next year.
Private consumption makes up some 60% of Japan's economic activity.
Japan's economy minister Akira Amari said on Friday that the government was ready to introduce a stimulus package that would buffer the impact of another sales tax hike if it was introduced.
He said the prime minister's position was "utterly neutral" on a further sales tax rise.
"[Mr Abe] said no countries have doubled the sales tax rate over a year and a half," said Mr Amari.
"I expect that he will make a considerably cautious decision."
Related Internet Links
The BBC is not responsible for the content of external sites.