Whitbread sales boosted by Costa Coffee and Premier Inn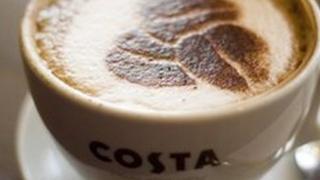 Whitbread has seen sales rise in the first half of the year, helped by strong performances at Costa Coffee and hotel chain Premier Inn.
Premier Inn's like-for-like sales rose 9.2% in the 11 weeks to 14 August, buoyed by special events including The Commonwealth Games and Farnborough Airshow.
At Costa Coffee like-for-like sales jumped 7.3%.
The strong performances drove total sales at owner Whitbread up by 12.8%.
"Whitbread remains on track for another good year," said Whitbread chief executive Andy Harrison.
At Premier Inn, the strong rise in sales meant total occupancy hit an all-time high in the period.
Whitbread said the hotel chain had gained market share, and had opened a further 758 UK rooms so far this year, with 4,500 new rooms planned for the full year.
Whitbread said it had also opened 76 new Costa stores in the UK so far this year, with 300 stores planned worldwide for the full year and 600 Costa express units.
Costa sales worldwide were up 15.3% equating to £602.4m.
Whitbread said the strong trading across the firm meant its "strong financial position" remained unchanged.