IPPR: Europe can reduce reliance on Russian gas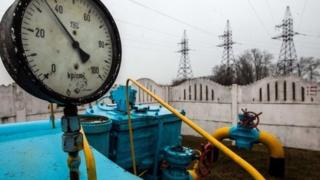 The European Union can dramatically reduce reliance on Russian gas through energy efficiency targets, centre-left think tank IPPR has said.
A binding energy-saving target of 35% by 2030 would cut gas imports by a third, IPPR said.
The UK government has opposed such a target, saying it would be restrictive, and may not be cost-effective.
However, a security expert said energy supplies from volatile regions risk disruption.
The UK should adopt energy efficiency targets as part of its broader response to events in Ukraine, Institute for Public Policy Research (IPPR) research fellow Joss Garman said.
The European Union has approved new sanctions against Russian energy companies including Rosneft, but gas will not be affected.
Boosting energy efficiency in industry, appliances and buildings across Europe by 2030 would cut gas imports by a third - the equivalent to the proportion of the EU's gas demand that is currently met by Russia, the IPPR said.
The target could also help member states save 500bn euros (£400bn) between 2011 and 2030, it added.
"The countries that are most dependent on Russian gas are also the least fuel-efficient, and improvements in energy efficiency could vastly reduce the scale of our dependency on Russia," Mr Garman said.
However, the UK government is not keen on binding energy efficiency targets to be added to European plans for climate and energy policy, it said.
"We are committed to energy efficiency and support ambitious EU energy efficiency measures," a spokesman for the Department of Energy and Climate Change said.
"[However], we are concerned that an EU energy efficiency target for 2030 would not allow member states the flexibility to choose the most cost-effective pathway to reducing greenhouse gas emissions and increase the costs of delivering the overall 2030 package," the spokesman added.
Neil Morisetti, a former government energy security adviser, said that security could be improved by using fewer resources from volatile regions.
"Recent events in Ukraine and the Middle East have served to highlight the vulnerability of our energy supplies and the political straitjacket that results from our over-dependence on fossil fuel imports from these volatile regions," he said.
"The quickest and most effective form of energy security is to use less," he said.