Charlton boss Meire part of select female football club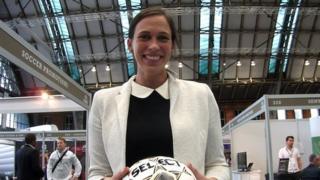 Katrien Meire probably didn't imagine when she sent a friendly email to the club she supported that it would eventually lead to her becoming one of the very few female executives in English football.
But that is exactly what happened to the 30-year-old Belgian, who has been chief executive of Championship team Charlton Athletic for nine months.
She is a rare breed in the male-dominated world of football - joining Sunderland boss Margaret Byrne and West Ham vice-chair Karren Brady as female powers in the boardroom.
So what does this former student of University College London make of life in the often macho world of the English dugout?
"First of all I am a football fan - you cannot do this job if you are not a supporter," she says, having grown up as a keen supporter of Sint-Truiden, currently in the Belgian second division.
"I am in this role because the owner believes in me. He also believes that women are better than men at managing budgets.
"I haven't felt I have been treated differently from men, it has been positive so far," she adds.
"Sometimes in meetings, for example, it can be an advantage - I am not just another guy in a suit.
"But of course it is up to me to prove that I am talking common sense too."
Career change
She worked for law firms Olswang in London and then Baker & McKenzie in Brussels before being offered the chance of a dramatic career change by Belgian businessman Roland Duchatelet in late 2013.
In 2011 she had offered to help Mr Duchatelet - at the time the Sint-Truiden owner - in a wrangle he was having over the selling of TV rights.
"I just sent him an email offering to help if I could, because competition law was my area of speciality, and I thought I might be of assistance to the club," she tells me at the Soccerex football business conference in Manchester.
"After that we kept in contact and I would send him updates on sport legal issues."
By late 2013, Mr Duchatelet had sold Sint-Truiden and was the owner of leading Belgian club Standard Liege, as well as Carl Zeiss Jena of Germany and AD Alcorcon in Spain.
"He asked me to join him - this was not long before he took over Charlton Athletic - to help the clubs that he owned to network more efficiently with each other," she says.
"As a football fan it was a great opportunity."
The trilingual Ms Meire then helped Mr Duchatelet with the actual takeover of the south-east London club.
Charlton 'has potential'
"Charlton was not the only English club we looked at as a potential purchase, but the feeling was that it had the most potential, and also of course a great history," she says.
"The Championship is full of clubs with history, but we felt Charlton has the potential to be a bit bigger than it is."
Not long after the takeover she was appointed as a club director, and then as chief executive.
She juggles an annual budget of millions of pounds, but is also responsible for the buying and selling of players - while dealing with agents, media, club staff and fans on a regular basis.
One of her first tasks was to deal with the overall management of the club, which she said "was in a mess".
That meant sacking a number of club staff, something she was unused to doing and found painful at the time.
"But it was done for the right reason, for what we felt was right for Charlton," she adds.
After tightening the club's financial belt, she says she was "amazed" at some of the commission demands then made to the clubs by players' agents - demands which, in her words, "did not make sense".
"I feel there are far too many agents who get far too much money for what they do," she says, adding that loaning players from Mr Duchatelet's other clubs is a way to avoid excessive agent fees on transfers.
Keeping to a budget
Charlton, or the Addicks to their fans, currently sit sixth in the Championship, in a promotion play-off place.
But unlike some other clubs who have broken the bank to get into the Premier League, she advocates "sensible spending".
"The most important thing is stability and for Charlton fans to know that their team is going to be there playing at the Valley every two weeks," says Ms Meire.
As an example of that financial sense, she says the recently closed transfer window presented a dilemma over whether to chase players the club would like to have in an ideal world or to stop spending "before we reached financial breaking point".
"We decided to only spend to our pre-agreed budget and not to overstretch ourselves," she says, adding that the situation would be reviewed again in the January transfer window.
Coming from Belgium, she says it was a surprise to encounter the all-powerful British football manager, who not only picks the team but also buys the players, something unknown on mainland Europe.
Having installed countryman Bob Peeters as head coach in May 2014, she and Mr Duchatelet now look for suitable players, with the coach getting "an input".
Connecting with fans
Apart from the monetary side, another prime objective is to build strong relations with the fans.
The Charlton Athletic Community Trust strives to give the club a strong presence in the local community.
"They can help us bring more people into the ground, reach out to young people and help us to make contacts with local businesses too," says Ms Meire.
On the issue of whether there should be more places made available for women at football's top executive levels, she says: "I am not a believer in positive discrimination.
"But it might be a good idea to get more football fans involved in the running of clubs, people who have a real genuine love of the game."