Santander's chairman Emilio Botin dies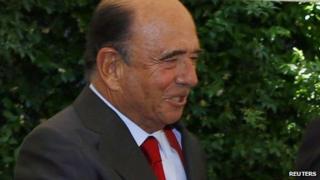 Emilio Botin, chairman of the Spanish banking giant Santander, has died aged 79, the company has announced.
The bank said Mr Botin died of a heart attack on Tuesday night.
The appointments and remuneration committee and the board of directors will meet on Wednesday to appoint a new chairman.
Mr Botin, a scion of a banking dynasty, was credited with building a small regional bank into a global brand with a presence in ten countries.
The group's shares fell 1.7% as the news broke.
Banking dynasty
Mr Botin - full name Emilio Botin Sanz de Sautuola y Garcia de los Rios - was a graduate in economics and law who joined the bank's board in 1960.
He became managing director in 1967 and chief executive a decade later, then chairman in 1986.
---
Analysis: Kamal Ahmed, BBC business editor
After the death of her father, Ana Botin, the present chief executive of Santander UK, is set to be appointed as group chairwoman this afternoon.
Santander, in the top 20 global banks by size, is a hugely influential operation across Europe and Latin America.
Ms Botin will now become a member of that rather small club - women who have made it to the top table of those who wield significant financial power.
It would not be too much of an exaggeration to put her in the top three - alongside Christine Lagarde at the IMF and Janet Yellen at the Federal Reserve.
---
His father and grandfather were also named Emilio and served as chairmen of Santander.
Mr Botin's eldest daughter, Ana, runs the group's British business and is expected to succeed him as bank chair.
If she does so, she will become the fourth generation of the family to take the helm.
Expansion
Under his leadership, Santander grew by buying up companies in Latin America in the 1990s and bought British lender Abbey National in 2004 for more than £9bn.
The group now has a market capitalisation of nearly 93bn euros (£75bn; $120bn).
In 2007, Santander was part of a consortium led by the Royal Bank of Scotland (RBS) to buy Dutch bank ABN Amro for £49bn - Europe's largest ever bank takeover.
But the deal was a step too far for RBS, ruining its balance sheet and forcing the UK government to pump in about £45bn to keep the bank afloat.
---
Analysis: Howard Mustoe, business reporter
Part of Emilio Botin's success was spotting the opportunities for Spain as it joined the European Community in 1986. This was a mere 11 years after the death of dictator Francisco Franco and the year Mr Botin took over the bank from his father.
He grew the bank through aggressive purchase of competitors, but also through banking services novel in Spain at the time, turning it into the largest bank by value in the eurozone today.
His tenure was not without controversy, however. Analysts still question the lender's capital position, with much of its strength in its many subsidiaries.
There is also now the question of succession. Despite his name being being synonymous with the bank, he doesn't own a large enough shareholding to guarantee his daughter Ana's control.
---
Santander, by contrast, emerged unscathed after picking off ABN's Italian and Brazilian businesses.
After swallowing the UK's Alliance & Leicester and Bradford & Bingley in 2008, Santander became the third largest bank in the UK by deposits.
Profits of 8.88bn euros saw the bank become third most profitable bank in the world.
'Leading player'
Primarily focused on European and Latin American expansion, Santander broke with tradition in 2010 and bought US retail bank, Sovereign.
Mr Botin's latest deal was the acquisition of Spanish banks Banesto and Banif in 2013.
"Emilio Botin took the bank from the domestic space to become a leading player," says Christopher Wheeler, a banking analyst at Mediobanca in London. "He was never afraid of being inventive."
A friend of presidents and royalty, "El Presidente" as he was known, kept a low public profile but was very well connected.
With a reputation for rigour and scrupulous attention to detail, he oversaw the transformation of the once lesser-known northern Spanish bank into a global brand, with a strong high-street presence that sponsors glamorous sports such as Formula 1 motor racing.
Mr Botin's personal wealth has been estimated by Forbes at over $1bn.