Retirees hit by biggest fall in annuity rates for three years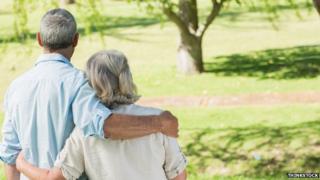 Annuity rates - which determine the value of private pensions - saw their biggest monthly fall in three years last month, according to research.
The average standard annuity rate fell by 2.6% during August alone, said the information website Moneyfacts.
It means that anyone buying an annuity, or an income for life, will receive a lower pension.
For example, someone cashing in their pension pot of £50,000 will now receive £1540 less over the next 20 years.
One reason for the fall is a reduction in gilt yields - the interest paid out on government bonds, which are used by insurance companies to calculate their liabilities.
The interest rate, or yield, on 15 year gilts fell from 3.05% at the start of August to 2.7% by the end of the month.
'Critical'
The other reason is a falling demand for annuities, following the announcement of new pension freedoms from next April.
"Although many individuals approaching retirement will be looking to postpone their decision on how to take a retirement income until then, the significant fall in annuity income that we saw last month will be felt by those who require a guaranteed, secure income now," said Richard Eagling, head of pensions at Moneyfacts.
Since the start of the year, annuity rates have fallen by 3.2%.
Enhanced annuities - used by people who are at risk of an earlier death - were not as badly affected last month, falling by 1.3%.
Changes in Annuity Rates
Average standard annuity
Average enhanced annuity
1 August 2014
£2,874
£3,390
1 September 2014
£2,797
£3,344
% change
-2.6%
-1.3%
source: Moneyfacts
"As always the critical message for anyone looking to lock in to a guaranteed income from an annuity is to shop around to make sure they're getting the best possible deal," said Tom McPhail of Hargreaves Lansdown.
Falling bond yields have also affected the finances of pension funds themselves.
Over the last month the deficit of 6,000 schemes that are members of the Government's Pension Protection Fund (PPF) increased by £47.9bn.