Liverpool FC global sales strategy is showing results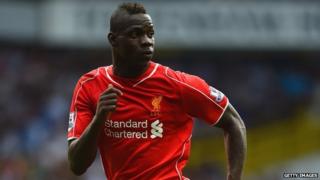 The day after Liverpool unexpectedly won the Champions League in dramatic fashion in 2005, fans on Merseyside descended on the club shop at Anfield stadium.
However, there were soon grumbles about the paucity of celebratory merchandise available, with even smallish items like the match programme hard to buy.
That incident was one which current managing director Ian Ayre would call "a missed commercial opportunity".
Ayre, who has been at the club for seven years after a career in sports television in East Asia, has been responsible for driving the club's merchandising and marketing business forward, initially as commercial director.
Now, the club runs a commercial operation so slick that it includes predicting how many iron-on letters might be needed to put on fan shirts when a new signing such as Mario Balotelli is made.
"The co-ordination is phenomenal," he says.
"As we move down the path towards making a signing, we co-ordinate with merchandising - have we got enough [iron-on] 'O's, have we got enough 'L's?"
Being prepared in this detailed fashion meant that the club was able to sell £50,000-worth of Mario Balotelli shirts on the day he signed for the club.
And in equally timely fashion, although he says it had been planned for some time, the club launched an Italian language Twitter account almost in tandem with the £16m ($25.8m) purchase of Balotelli from AC Milan.
Cashing in
Ayre says the club is able to move so nimbly and efficiently because it has a staff of 600, which he says is the biggest in the Premier League, with 70 of those working in the media side.
"Liverpool had success and opportunities to develop in the past and didn't take them. That won't happen again," he said, speaking at the Soccerex football business conference in Manchester.
But he said the club now had the "right people, right communications, right confidentiality too" to exploit financially opportunities such as big transfer deals as they arose.
But he said that keeping such major signings - and thus merchandising opportunities - confidential within the club, was a must.
"If you let the cat out of the bag, then someone else dives in there [to sign the player]," he says.
Last season, the club, which has not won the league title since 1990, was runner-up to Manchester City, finishing just two points behind.
But Ayre says that success cannot just be measured on the pitch.
"The success of any club or sports organisation has to be measured by engagement with the fans," he says. "Our evolution over the past five or six years has been getting all the fans involved."
Reaching fans at home...
The club realises that obviously not everyone who wants to see the team play can get into its 45,000 capacity stadium, which Ayre expects to be totally sold out of all tickets and hospitality for this season's games.
A planned stadium extension to 58,000 has been submitted to the local authority for approval, and those extra seats - as well as boosting club matchday revenues - would also help meet UK fan demand.
But Ayre says the other "huge challenge" has been working hard digitally to reach out to the club's burgeoning international fan base.
"We have worked very hard to make fans in overseas markets feel engaged, and we have done that through digital and social media," he says.
Last month the club had 10 million unique users and 100 million page views on its official website.
...and abroad
In addition, Ayre says the club's digital offerings provide access in 40 different languages, with 30 million worldwide fans interacting on a regular basis.
"It is easy to create a local language website," he says. "But what we have been doing is getting local fans on the ground to write for our overseas websites, for example in Thailand, in their own local time.
"You hear about other clubs saying they have so many hundred million fans around the world, but we believe in measuring fan numbers according to those we have a relationship with," says Ayre.
He points to the huge numbers of spectators who came to watch the team on its summer tour of Asia in 2013 as evidence that this strategy is bearing fruit - 70,000 in Thailand, 80,000 in Indonesia, and 100,000 in Australia.
"That is a reflection of those programmes that we are working on every day, reaching out globally," he says.
Measuring success
"Our other measure of success is in our foundation and community work. The football comes first, but we have responsibilities in other areas national and internationally."
He said that the club had been in a "very difficult place" before it was sold to current owners, US-based Fenway Sports Group, four years ago.
"The fans have stuck with us, and invested in us through things like buying merchandising, and signing up for our TV station."
He adds: "You can only measure success by the number of people you engage and satisfy."