Australia's Myer reports annual losses for fourth year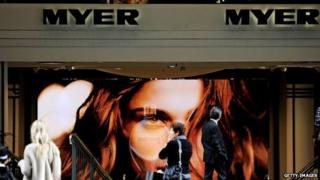 Australia's largest department store group, Myer Holdings, has reported a fall in annual profits for the fourth year in a row.
The firm said its full-year net profit for the financial year ending on 26 July was A$98.5m ($90.6m; £55.9m).
It marks a fall of 22.6% from the year before.
The 114-year-old firm has 66 stores, but it has been struggling to compete with an increasing number of online shopping outlets.
Myer also faced pressure earlier this year after it lost a buy-out bid for its major rival, David Jones, to South Africa's Woolworths Holdings.
Despite the store's disappointing annual profit results, Myer said it was pleased to have achieved comparable store sales growth of 1.2% for the year.
Myer's chief executive officer, Bernie Brookes, said that the sales growth "was encouraging in a challenging year".
He said the firm's net profit had been hit by "significant investment to reposition the business", especially in its store network and its online presence, among other efforts.
Concerns
As the firm's shares fell by as much as 7% in morning trade in Australia, other analysts were not so positive.
"In short this is the fourth straight drop in profitability for Myer," said Evan Lucas, a market strategist at IG Markets in Melbourne.
"And the cost of doing business is also expected to rise, so there are still concerns here."
Mr Lucas said that Myer's spending on its online website, omni-channel, was set to rise further, even as discretionary spending in Australia was subsiding.
"All of this spells tough times ahead. It's a long way to go, in my eye, for Myer."