China's inflation cools to four-month low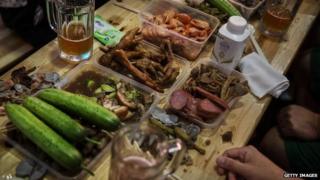 China's consumer inflation rate rose 2% in August from a year earlier, below the government's target of 3.5% and marking a four-month low.
The country's official consumer price index (CPI) figure is its main inflation gauge and the August figure compares with a rise of 2.3% in July.
Lower prices for pork, a Chinese staple, contributed to the monthly CPI reading, state news agency Xinhua said.
But the drop in inflation would likely prove short-lived, said analysts.
Pork prices dropped by 3.1% during the period.
However, the cost of fresh fruit rose by 21.2%, a factor that pushed the CPI reading up by 0.41 percentage points, official data showed.
Looking ahead, though, analysts said that falling pig stocks in China would soon drive an increase in pork prices.
"In the months ahead, with pork prices rising, food inflation might start to pick up," economist Julian Evans-Pritchard from Capital Economics told the BBC.
"I think overall we don't expect inflation to go above 3.5% this year," he said.
Other analysts said an interest rate cut would be unlikely even though low inflation might warrant further easing.
"... given Premier Li has mentioned clearly that there will be no big stimulus and no aggressive easing ... (authorities) are probably still in a wait-and-see mode," said economist Dongming Xie from OCBC Bank in Singapore.
Wholesale prices
China also released its monthly wholesale inflation rate for August, which measures factory prices for consumer goods, as well as wholesale prices of production materials.
According to official data, the producer price index (PPI) fell by 1.2% from a year earlier, marking 30 straight months of falls.
Analysts said the numbers suggested excess capacity in the industrial sector.
The factory price - or wholesale price of consumer goods - gained just 0.2% for the period, but wholesale prices of production materials fell 1.7% for the month.
Xinhua said the the data marked existing pressures from slowing economic growth in the country.