Next profits up as consumer confidence returns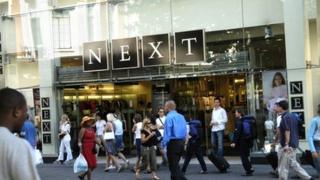 Next has reported a strong rise in half-year profits as higher house prices and the continuing economic recovery feed into household spending.
It said pre-tax profits for the six months to July rose 19.3% to £324.2m, compared with £271.8m a year earlier.
Overall sales were 10.3% stronger than a year ago, Next added.
Next Directory sales grew 16.2% to £694.3m from £597.6m a year earlier. Next Retail sales rose to 7.5% to £1,07bn from £bn.
The retailer said the improving economy, low interest rates, increasing availability of credit, less discounting on the high street and much better summer weather had all contributed to an improvement in its sales performance.
"In addition, an improved housing market has helped our home business," it added.
Next said it expected pre-tax profits in 2015 to be between 11% and 17% higher at between £775m and £815m.
It forecast sales growth of 10% in the third quarter and 4% in the three months to Christmas.
The retailer acknowledged its sales forecast for the fourth quarter "may look unambitious" but said the number needed to be seen in the context of the "very strong sales performance in the final quarter last year".
Next shares were 2.58% lower to 6980p in early trading on the London Stock Exchange