Wetherspoon boss: Business leaders and politicians talking 'nonsense' on Scotland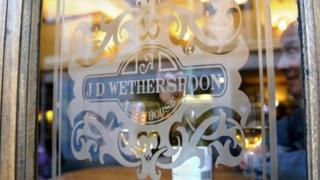 The boss of pub chain JD Wetherspoon, Tim Martin, has accused business leaders and politicians of talking "nonsense" over Scottish independence.
He told the BBC "Scotland could do very well on its own".
"There is a lot of nonsense talked by businessmen and politicians that it is impossible for Scotland to survive by itself. We think we can trade well there."
Others have warned independence will bring higher costs.
They include the former head of Sainsbury's, Justin King, Asda and John Lewis.
Mr King told the BBC supermarket prices would rise, investment put on hold, and food producers be hit.
In an interview with BBC economics editor Robert Peston, Mr King, who was one of UK's most successful retailers, said supermarkets currently spread the cost of doing business across the UK.
"But it is more expensive to do business in Scotland today. Business rates are higher, distribution costs are higher.
"If Scotland was to be an independent country, with businesses run separately in Scotland - as inevitably will be the case - prices would be higher," said Mr King, who resigned from Sainsbury's in July after 10 years.
But Mr Martin said he believed Wetherspoon's could "trade well" in an independent Scotland.
"I think Scotland could do very well on its own," he said. "New Zealand has a comparable population and does pretty well. Singapore has a very small population and does very well.
"Maybe if it gets independence we will get some VAT parity between pubs and supermarkets."
Record profits
On Friday the pub chain reported a 3% rise in annual profits and forecast a "reasonable" outcome for next year following record sales.
It said pre-tax profits for the year were £79.4m, compared with £76.9m a year earlier.
Like-for-like sales - which count sales in pubs open for more than a year - rose 5.5% in the year.
Menu improvements and longer opening hours, as well as new pub openings, helped total sales grow 10% to £1.4bn.
In the first six weeks of the new financial year like-for-like sales were 6.3% higher, Wetherspoon's added.
JD Wetherspoon shares were 1.4% higher to 772.50p in mid-morning trading on the London Stock Exchange.
Mr Martin said he was "pleased" with the pub chain's progress, pointing out it now employed 34,000 people, 3,000 more people than a year ago.
He added that £29.2m was paid in staff bonuses and free shares.
'Fashion'
But Mr Martin warned the pub industry still faced a considerable threat from "the VAT disparity between supermarkets and pubs" which he has previously said meant supermarkets have been able to undercut the pub industry.
He also questioned the corporate governance of other pub chains with "so-called independent non-executive chairman and dominated by non-executive directors, often with a very small number of executive directors," which he said "tended to be excessively influenced by City fashions, creating instability and poor performance as a result".
Wetherspoon's said it had opened 46 pubs in the year and planned to open a further 30 to 40 pubs over the next financial year.