Barclays Bank names McFarlane as new chairman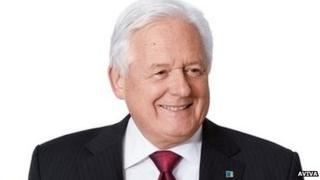 The non-executive chairman of insurance giant Aviva will become the chairman of Barclays Bank from April next year.
John McFarlane will step down as chairman of the UK's biggest insurance company in April 2015.
He will be replaced at Aviva by former the Friends Provident chairman, Sir Adrian Montague.
Mr McFarlane helped steer Aviva through a difficult period following the resignation of its chief executive Andrew Moss in May 2012.
Mr Moss was forced to resign after a shareholder rebellion over executive pay at Aviva. He received a £1.5m payout on his departure.
Mr McFarlane led a turnaround in strategy at the insurance giant, promising to turn it into a "leaner, more agile beast".
'Strong'
Under his leadership Aviva cut staff, sold 16 businesses and sought "significant improvement" in 27 others in order to reverse the company's poor share performance, which fell by 50% in the four years between 2008 and 2012.
He also led the search for a new chief executive, eventually appointing Mark Wilson, the former boss of American International Group subsidiary, AIA Group, at the end of 2012.
Aviva said it had been aware for "some time" of the possibility that Mr McFarlane "might need to leave earlier than he had anticipated to return to banking".
In a statement Barclays Bank said: "Mr McFarlane has a strong track record as a CEO and subsequently as a chairman. He brings extensive experience of investment, corporate and retail banking, as well as insurance, strategy, risk and cultural change."
Barclays share price rose nearly 2% to 229.85p on the London Stock Exchange following the announcement. Aviva's share price was 0.66% lower by mid-morning to 527.50p.
Multiple boards
Mr McFarlane has served as a non-executive director at Royal Bank of Scotland and previously headed Australian and New Zealand banking giant ANZ as chief executive for 10 years.
He will also step down as chairman of FirstGroup, a role to which he was only appointed in December following a six-month search for a replacement for former chairman Martin Gilbert.
John McFarlane's replacement as chairman of Aviva, Sir Adrian Montague, joined the board of the insurer in January 2013, and became senior independent director five months later.
He currently sits on the boards of several companies including 3i Group, Anglian Water Group and Skanska.
He was previously chairman of life insurance company Friends Provident, British Energy, Michael Page and Cross London Rail Links.
He has also served as deputy-chairman of Network Rail and UK Green Investment Bank and was previously chief executive of the Treasury Taskforce and a trustee of Historic Royal Palaces.