Tottenham Hotspur takeover by US Cain Hoy being assessed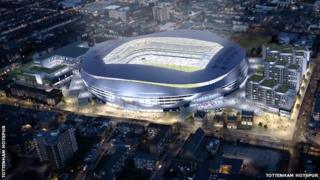 US private investment company Cain Hoy Enterprises has confirmed it is considering a takeover offer for English Premier League club Tottenham Hotspur.
The north London club denied on Thursday that owner Joe Lewis was planning to sell.
But a statement from Cain Hoy said it was in the preliminary stages of assessing a cash offer for the team.
The football club plans to redevelop its White Hart Lane stadium in 2017.
It has hired investment bank Rothschild to advise on the options to finance the planned redevelopment of the stadium into 56,000 seat capacity stadium, up from its current 36,000 seat capacity.
The two time English champions have traditionally been one of the big names in the football league.
But the current stadium has struggled to generate the revenue needed to compete with London rivals Chelsea and Arsenal.
Billionaire
The planned new stadium is expected to help drive revenues but problems with the planning and financing mean it is unlikely to be ready until the 2017-18 season.
That is likely to mean the club would face a year on the road without a permanent home, although there have been suggestions that it could use the Olympic Park stadium.
Cain Hoy now has until 10 October to confirm its interest or withdraw it, in accordance with the City Code on Takeovers and Mergers.
Mr Lewis, a self-made billionaire, has owned Spurs for 13 years, after buying a controlling stake in Tottenham from Alan Sugar in 2001 via his company ENIC International.
On Friday, Tottenham issued a statement saying: "Tottenham Hotspur FC has been in discussions with multiple providers of finance so that the optimum financing package for the project can be achieved and, in the course of those considerations, has met representatives of Cain Hoy."
"The club is focused on the new stadium development and the season ahead."
Several Premier league clubs are US owned, including Manchester United, Aston Villa, Arsenal and Liverpool.
Tottenham finished sixth in the Premier League last season and have only qualified for the lucrative Champions League once, reaching the quarter-finals in the 2010-11 season.