China's central bank said to inject $81bn into system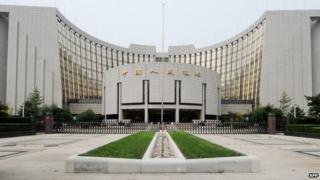 China's central bank is said to be injecting 500bn yuan ($81bn; £50bn) into the five biggest state-owned banks to counter slowing growth in the world's second-largest economy.
The People's Bank of China (PBOC) is reportedly giving each bank a $100bn low-interest loan over three months.
The move may be the first of several stimulus measures, analysts say.
It is aimed at lifting business confidence and investment following a string of weak economic data.
China's economy showed more evidence of a slowdown with industrial production and foreign direct investment hitting multi-year lows in August.
The five lenders said to be receiving the stimulus are the Industrial & Commercial Bank of China, China Construction Bank, Agricultural Bank of China, Bank of China and Bank of Communications.
The move was first reported by local Chinese news website Sina.com. Other media reports cited a government official and a senior Chinese banking executive.
Chinese banking shares traded in Hong Kong rose on the news.
'Bigger steps'
Economists say the move may have a similar effect to a 50 basis point cut in China's reserve requirement ratio, which is the amount of money China's commercial lenders must deposit with the PBOC.
Some also believe the capital injection is meant to pre-empt any possible liquidity shortfall ahead of China's major Golden Week holiday, which starts on 1 October.
Louis Kuijs, China economist at RBS, said policymakers have been under pressure to "take additional, more significant measures to ease the policy stance and shore up growth".
"It increases the money base. If not constrained by caps on loan-to-deposit ratios or other administrative regulation, it would increase the banks' ability to extend credit," he said.
"In our view this measure reduces the chance of other, bigger steps in the monetary sphere in the very short term. We think it is likely to see measures such as supporting infrastructure and the property market."
Growth target
There are rising concerns that the government may miss its target for economic growth of 7.5% this year.
However, China's Premier Li Keqiang said last week that the country was on track to meet its growth target and that its structural reforms were progressing.
Following the 2008 financial crisis, China unveiled a massive stimulus programme to keep its economy afloat.
But in recent years, Beijing has been unveiling more targeted measures aimed at addressing problems such as a possible property bubble and rising local government debt.
Mr Kuijs said this stemmed from a desire by Chinese authorities to rein in financial risks that arose from its initial, much broader stimulus.
"The problem is that the use of such targeted, specific instruments runs counter to the envisaged reform of monetary policy. That reform is supposed to be making monetary policy more indirect, market based," he said.
"However, several of the measures and new instruments introduced this year move monetary policy in the opposite direction, making it more direct and less market oriented."