Eurozone inflation revised to 0.4%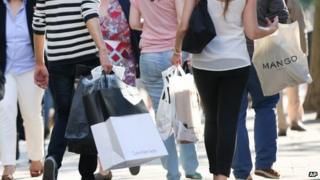 The eurozone inflation rate held steady at 0.4% in August, slightly higher than the original estimate of 0.3%, revised Eurostat figures show.
The revision means that the rate was unchanged from July's 0.4%.
However, it is still much lower than August 2013's figure of 1.3%.
Earlier this month, the European Central Bank (ECB), which has an inflation target of 2%, cut its benchmark interest rate to 0.05% and introduced new stimulus measures.
Under its asset purchase programme, it will buy debt products from banks, in an effort to add liquidity to the financial system and revive lending.
Fears are growing that the eurozone could tip into deflation, which would make it harder to restore the region's moribund economy to health.
The latest figures show that Italy and Estonia joined Spain, Greece, Slovakia and Portugal in seeing falling prices over the past year.
Mario Draghi, head of the ECB, has previously described inflation at below 1% to be in a "danger zone".