Vodafone takes on Phones 4U stores, but 628 HQ jobs to go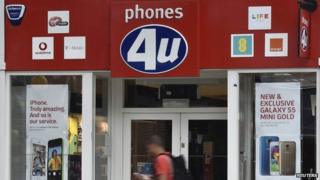 Vodafone UK has reached an agreement with the administrators of Phones 4U to take over 140 of the outlets run by the phone company that collapsed earlier this week.
Administrators PwC said 887 jobs for shop employees across the UK would be preserved.
The stores will be rebranded as Vodafone stores over the coming weeks.
However, 628 employees at Phones 4U head office in Newcastle Under Lyme are losing their jobs.
The administrators said the "need to cut costs in the business" had led to the decision to reduce numbers at the company's headquarters.
At the head office 400 employees are being retained to work on managing the restructuring process.
"It is with great sadness and regret that we have today made the difficult decision," said Rob Hunt, joint administrator and PwC partner.
Court approval
Dixons Carphone has already agreed to take over more than 800 staff working at Phones 4U concessions within their Currys and PC World outlets.
PwC said the deal with Vodafone represents value for Phones 4U's creditors.
"We have worked rapidly over the course of the week following our appointment to explore interest in the Phones 4U business and we are very pleased to secure a future for a significant number of stores and continued employment for 887 of the Phones 4U people," said Mr Hunt.
The deal with Vodafone is subject to court approval. PwC said there would not be an announcement of which stores were being transferred until after the court process which is scheduled for Monday.