The woes of Rio's small retailers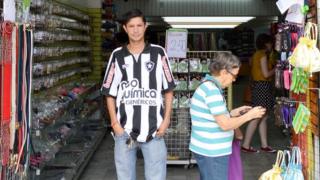 Like almost everyone in Rio de Janeiro, store owner Anacleto Gomes is a football fan.
Serving customers in his jewellery and fashion accessories store, he wears the black and white shirt of Botafogo, one of the big four clubs in the city.
But as he hands over change to a customer, Mr Gomes talks about the recent World Cup in Brazil with disappointment and disillusion.
For him, like many of the traders on Rua Dias da Cruz, the main street in Meier, a suburb in Rio's north zone, the expected uplift in business never materialised.
And with rising rents, and customers migrating to the safety and comfort of shopping malls - due to fear of increased street crime - more and more of Mr Gomes's neighbouring storeowners are closing up.
"There are many shops closing here," Mr Gomes says. "There's a lot of movement away from the High Street, and business is slow.
"During the World Cup, trade was lower than expected. Visitors were only spending on Copacabana beach, inside the Fan Fest area."
Beside Mr Gomes's store stands one of several empty units on Rua Dias da Cruz.
It used to be a pharmacy, he says, but it closed down more than a year ago after a rise in rent pushed its owner to sell up.
Along Rua Dias da Cruz several closed stores display "for rent" signs on their locked shutters, and in the nearby neighbourhood of Tijuca, it is a similar story.
Even the more affluent areas of Rio have been affected, including the beachside district of Leblon, where some estimates suggest commercial rent has more than doubled.
In fashionable Leblon's Cobal market area, more than half of the 142 shops are empty.
'World Cup inflation'
According to research earlier this year by property association Secovi-Rio, shop rents in some Rio neighbourhoods have gone up by almost 10 times the rate of inflation.
The figures showed that the average commercial rent in Flamengo and Botafogo had increased 60% from 88 reais (£26; $44) per square metre a month in January 2013, to 141 reais (£36; $59) per square metre a month this year.
Meanwhile, the well-known Martinica bakery, which had been in business in upmarket Ipanema for 17 years, was forced to close in December due to rising rent, believed to have increased from 20,000 reais per month to 80,000 reais.
Commentators say commercial landlords felt justified to increase rents ahead of the World Cup, because of the rise in visitor numbers to the city, and that the landlords will only raise rents further as Rio prepares to host the 2016 Olympic Games.
Daniel Pla, a retail expert with the Getulio Vargas Foundation think tank, says: "Rio de Janeiro is suffering World Cup inflation and it will continue with Olympic inflation."
'People are scared'
But as well as having to deal with rising rents, shop owners on Meier's main street say high crime levels in the area are putting off customers.
Shop robberies in the area rose by 55% from 2012 to 2013, with one store owner resorting to opening his doors only when a customer entered or left.
"People are scared," Mr Gomes adds. "We now pay a guy on the street to keep an eye on the front of the shop."
Luiz Antonio Simon, who manages a T-shirt shop on the same street, says a growing number of customers are going to shopping centres instead because they feel safer there.
"Business is decreasing because of shopping centres," he says. "Shopping centres have more security; security on the street is very serious, there's a lot of assaults."
Mr Simon says he also noticed a downturn during the World Cup, because locals just wanted to concentrate on watching the tournament instead of going shopping.
"People were more worried about the football than anything else," he says.
Election issue
For Antenor Barros Leal, president of the Commercial Association of Rio de Janeiro (ACRJ) business group, uncertainty about the Brazilian economy ahead of the country's general and local elections next month has contributed to a drop in retail spending.
"It's a very strange situation. The Brazilian economy had an unusual rhythm of growth," he says.
"What is lacking is predictability in the economy. It's an election year so we don't know what will happen with economic policy.
"Commercial property owners think they can wait a little, not yet reducing their prices. Depending on what happens with the economy, this will stabilise, or change and return to previous prices."
Back at Mr Gomes's jewellery shop, business will go on after he renewed his lease for another five years, despite the rising overheads.
"The year starts again with Christmas," he says. "The expectation is for business to get better.
"We want it to because we want to work. We don't want to close our doors."