Alibaba founder Jack Ma tops China rich list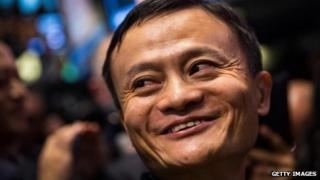 Alibaba founder Jack Ma has become China's richest person following his company's record listing, according to a wealth survey by the Hurun Report.
Mr Ma tops its annual rich list with a fortune of $25bn (£15bn), followed by Wanda Group chairman Wang Jianlin.
Internet billionaires account for five of China's 10 richest people this year, eclipsing property tycoons who have traditionally dominated the list.
The list also includes the head of Tencent, Pony Ma.
Other tech titans on the list include the co-founder of Chinese search group Baidu, Robin Li, and the founder of online retailer JD.com, Richard Liu Qiangdong.
Mr Liu, who is ranked 10th on the super-rich list, also saw his company listed in New York in August this year.
CHINA RICH LIST
Name
Company
Wealth (US$)
1. Jack Ma Yun & family
Alibaba (IT)
$25bn
2. Wang Jianlin & family
Wanda (Real estate, entertainment)
$24.2bn
3. Li Hejun
Hanergy(Renewable energy)
$20.8bn
4. Zong Qinghou & family
Wahaha (Drinks)
$20.8bn
5. Pony Ma
Tencent (IT, entertainment)
$18.1bn
Hurun Report chairman and chief researcher Rupert Hoogewerf said the list shows "the entrepreneurial spirit that has caught China seems not to be abating".
"Jack Ma is the 11th Number One we have had in China in the last 16 years, showing the dynamism of the Chinese economy, and a stark reminder of the growth potential that is being realised in the emerging markets".
Property hit
The Hurun Report's rich list is one of the most closely-watched and accurate assessments of wealth in China. The annual report has been published for the past 16 years.
Individuals or families required at least $2.3bn this year to make it onto the list, which is more than 15 times the amount needed a decade ago.
There are a record 354 so-called "dollar billionaires" in China this year, Hurun said, which is a 13% increase from last year.
Overall, the total wealth of the 1,271 people on the list is worth $1.4tn this year.
Hurun said it had been "an amazing year" for the online retail and other IT sectors and a "good year" for entertainment, investments, cars, renewable energy, pharmaceuticals and manufacturing.
On the flipside, Hurun said it had "been a bad year for steel and shipping" and that real estate "could have done a lot worse, bearing in mind the state of the market".
The world's second-largest economy has been slowing down amid concerns its property sector may have overheated and that levels of local debt are too high.
As a result, the government has unveiled measures meant to cool the housing market, which has seen growth stall for several quarters.
Perhaps reflecting this shift, four of the six property tycoons in last year's top 10 list have dropped down the rankings.