Tesco's South Korea brand Homeplus under investigation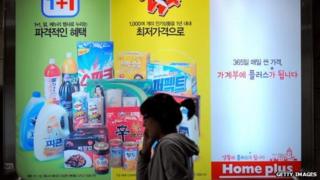 Prosecutors in South Korea are investigating Tesco-owned supermarket, Homeplus, over allegations that its managers sold customers' private information to insurance firms.
Authorities are also investigating whether a competition for customers was rigged so that friends of Homeplus employees won the main prize.
Tesco said it was co-operating with the probe at its biggest non-UK brand.
It is under fire in the UK after over-stating its half-year profit guidance.
The company has launched an investigation into the £250m accounting gap, and has also suspended four executives, including its UK managing director, Chris Bush.
The allegations at Tesco's South Korean business are unconnected to the profit overstatement in the UK.
It operates 400 stores and 198 franchise stores in South Korea, and serves over six million customers in the country every week.
The BBC's Steve Evans reported from Seoul that Homeplus executives have been banned from leaving the country while the investigation is underway.
As many as 2.5 million customers may have had their personal data sold to insurance companies, he added.
"Cashiers at check-outs were paid to sign people up," said our correspondent.
"How personal this information may have been is not known, though email addresses and spending habits would be useful to other companies.
"It's also alleged that a BMW awarded as a prize in a competition for customers actually went to a friend of employees."
A Tesco spokesman said: "We can confirm our South Korean business, Homeplus is under investigation regarding the handling of customer data.
"We take the protection of our customers' data extremely seriously and are co-operating with the investigation."